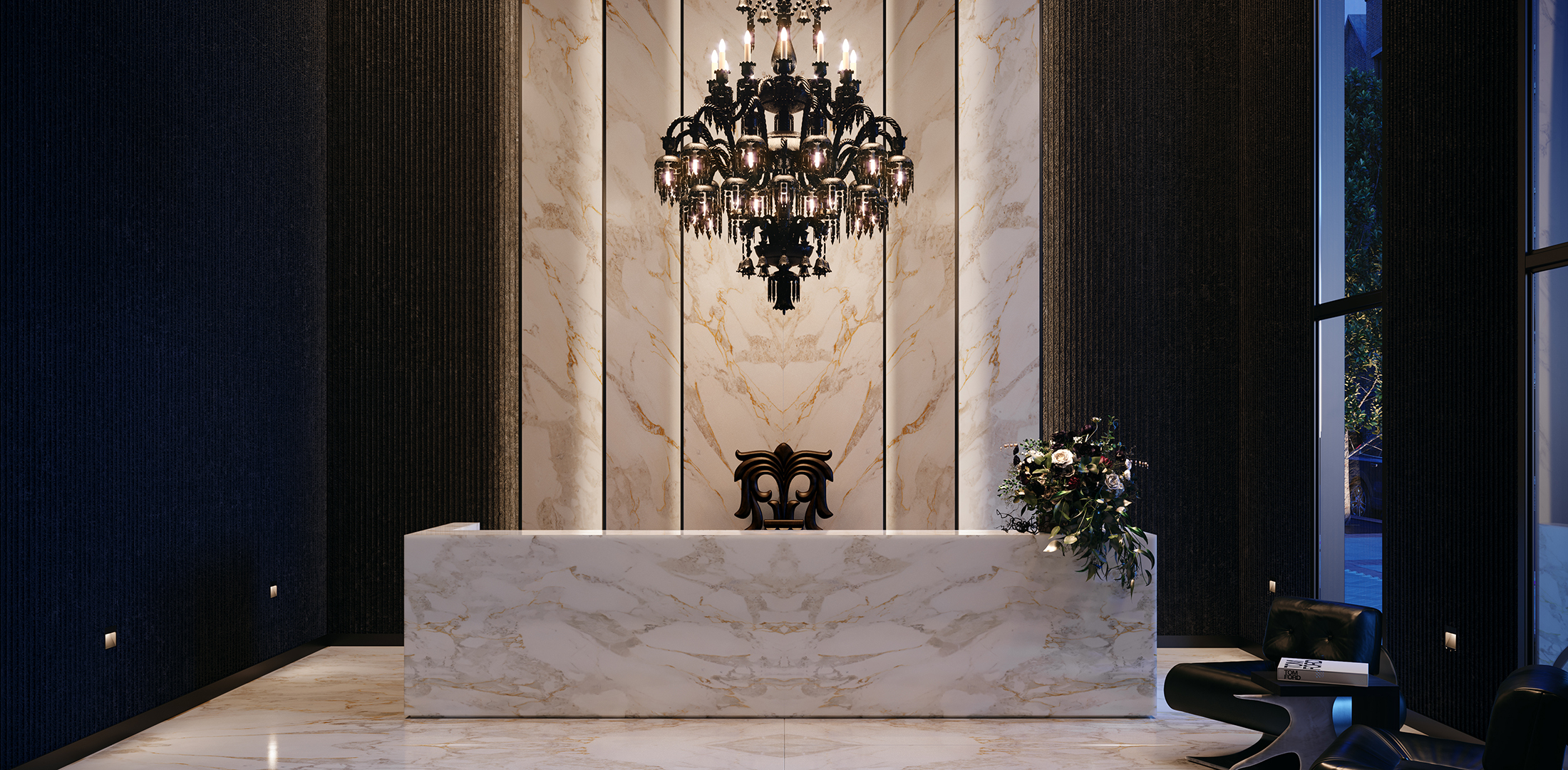 Canada | Toronto
Alias
Catering to the fashionable and daring urbanite, Alias by Studio Munge for Madison Group shines as a beacon of rock & roll attitude and edgy sophistication in the heart of Old Toronto. Only steps away from university campuses, the bustling Financial District and Toronto's Village, Alias rises as a community for like-minded, free spirits.

Step inside the double-height lobby and discover a fierce and glamorous world defined by strict contemporary lines juxtaposed with rebellious design motifs. Above the monolithic reception desk, a handblown Chrome Hearts Baccarat crystal chandelier hangs off-centred in the air counterbalancing the symmetry while illuminating the ribbed-textured concrete walls and marble floors with mesmerizing European charms. Grounding the space, a pair of designer leather club chairs engage in flirtatious conversation,
Share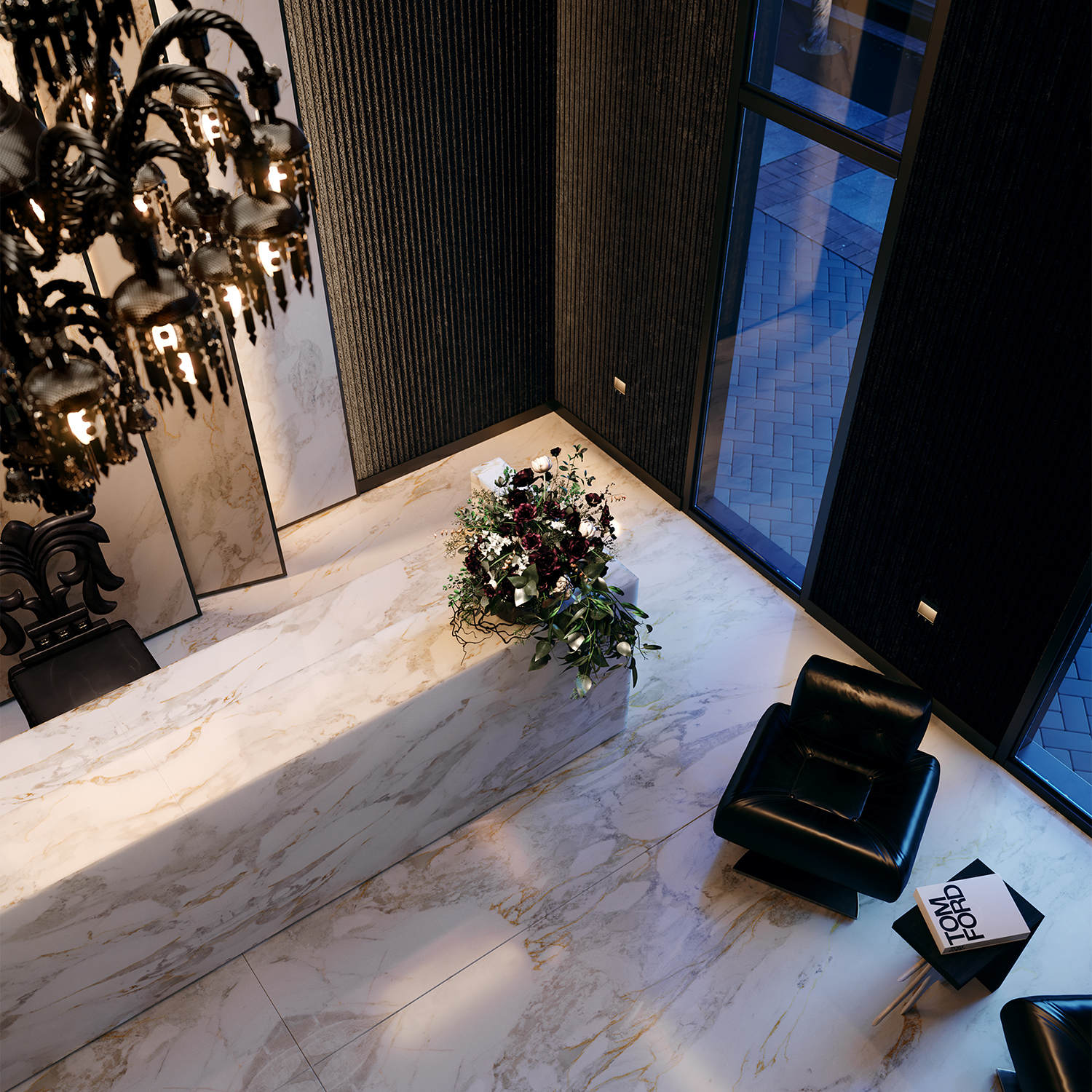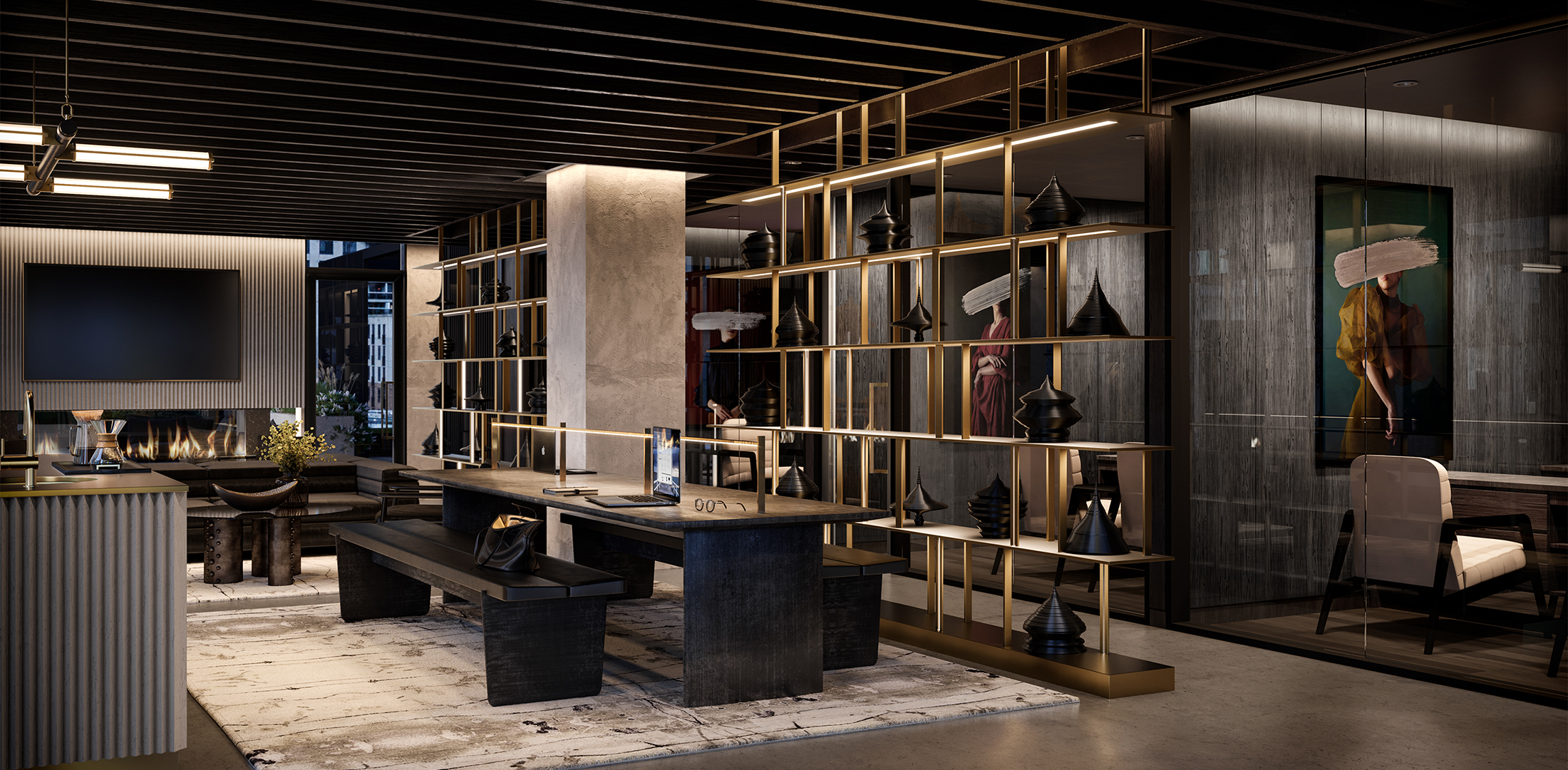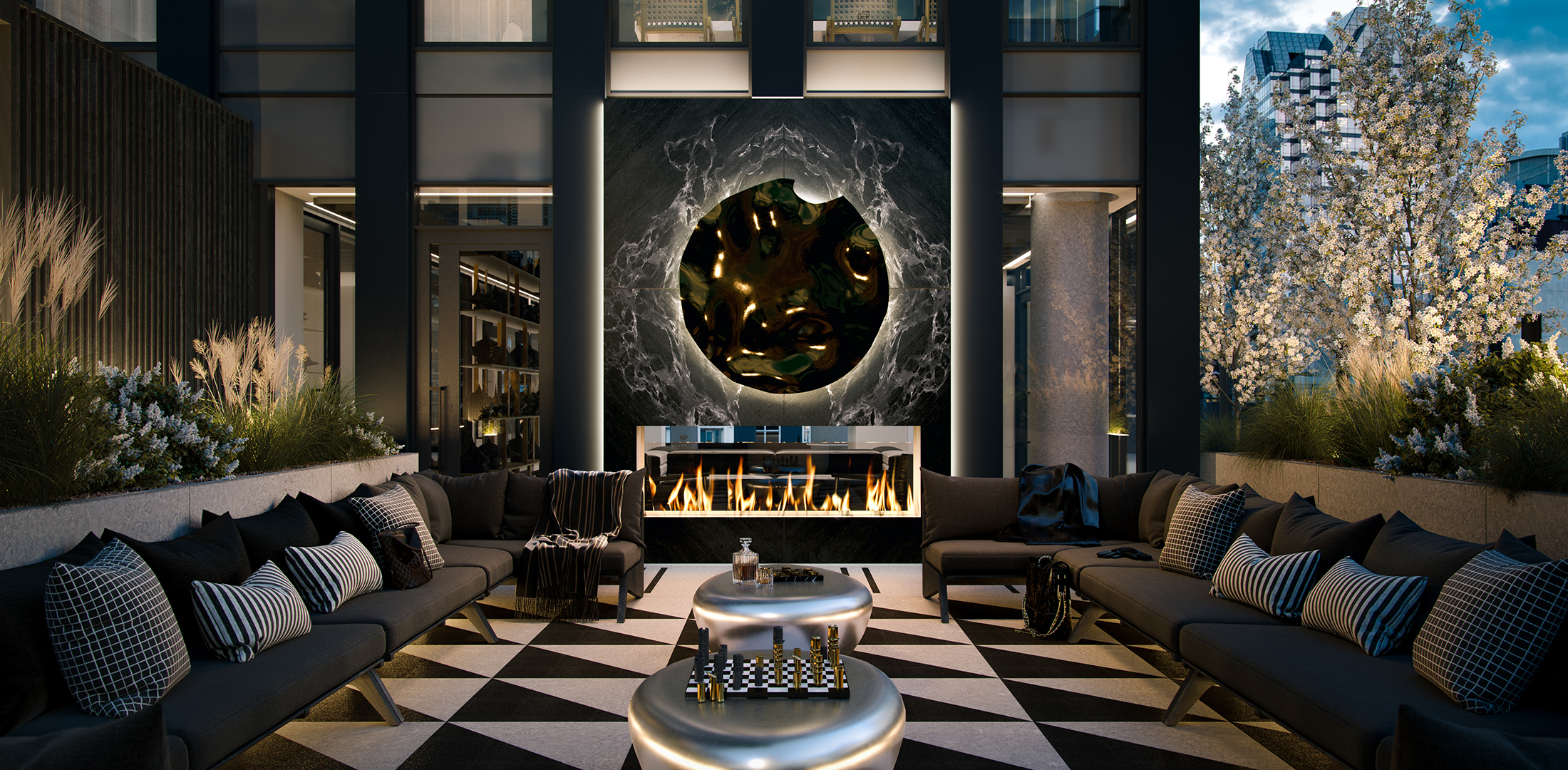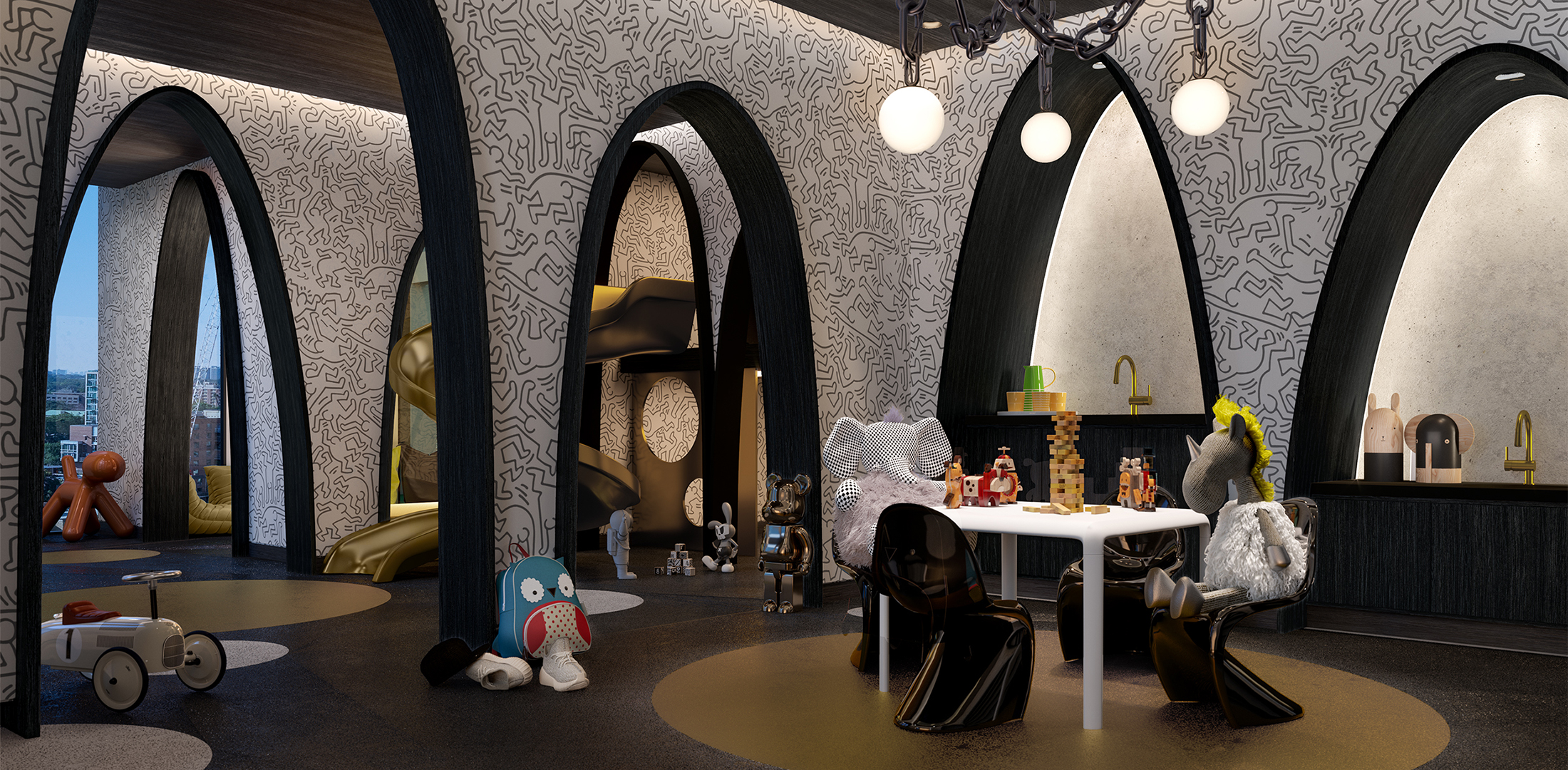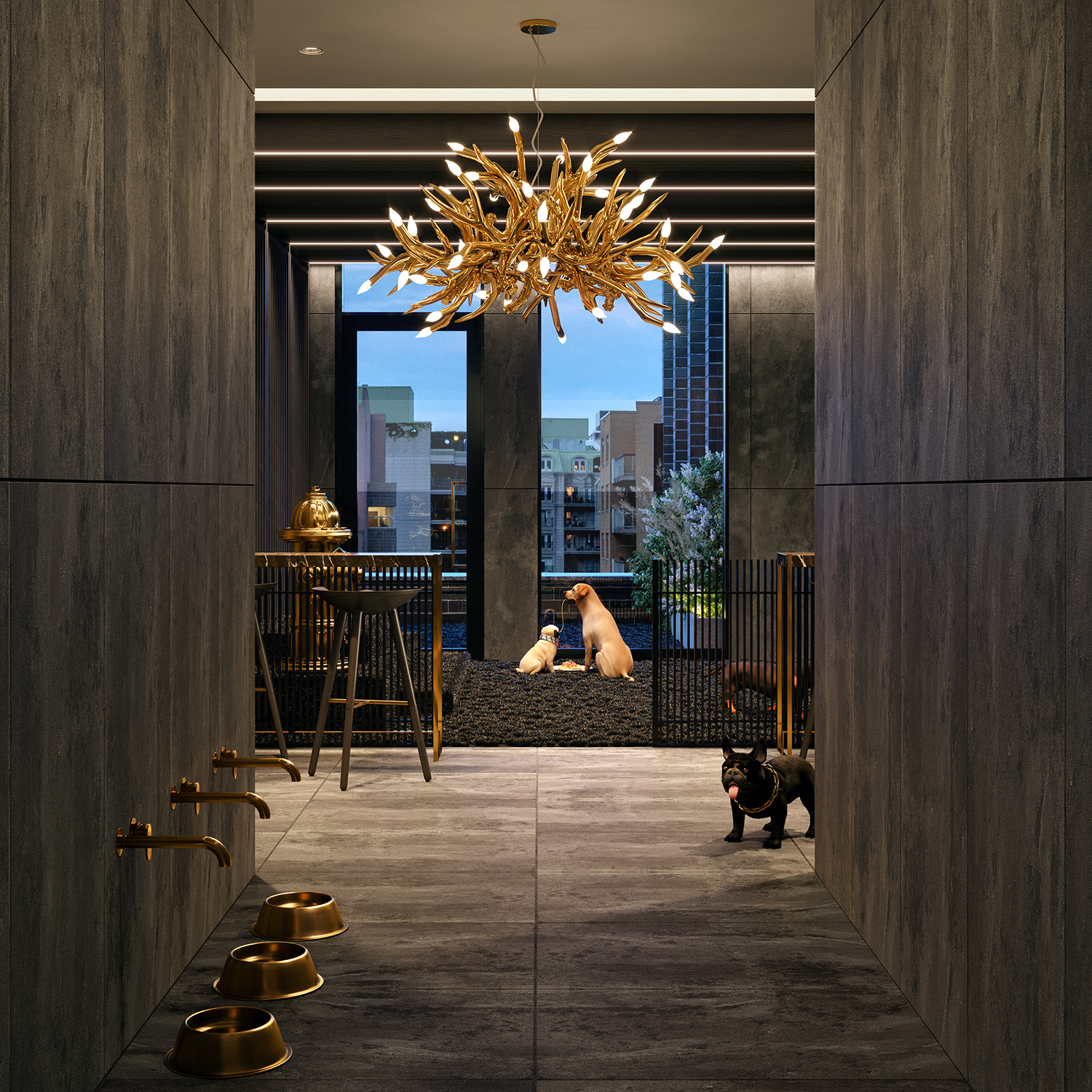 In the 6th-floor kids' zone, between arched portals, niches, and glass partitions, a monochromatic wipeable Keith Haring tribute wallpaper invites the next generation to fill in the blanks and express their unique sense of style and colourful personalities. Split into multiple areas, the bold playground engages the senses, escapism and physical exercise, jumping from dot to dot. Create in the art and craft studio or let your imagination run wild gliding down a polished chrome slide in the urban jungle treehouse, or finally, travel to far lands in the projector lounge, nestled in custom sofas. Taking the adventure from inside out, Alias also offers a theatrical outdoor playground energized with a funky black-and-white pattern and softly lit at night with whimsical string lights. It features a striped carnival structure and slide, soft rubber surfacing to bounce on and plenty of curved benches to sit around and catch a breath before the next jump.

Nearby, our furry friends also get a wild sanctuary in the experiential pet spa featuring bold and unpredictable design details such as a dramatic bespoke golden antler chandelier and a black AstroTurf playpen punctuated with a golden fire hydrant.

Also located on level 6, a large flexible open workspace brings a sense of community to Alias while four purposefully partitioned meeting pods allow privacy. The venue connected to an outdoor lounge is a fresh and energizing hub, significantly increasing residents' living space while bridging productivity and community building. Breaking up the glazing, a dramatic double-sided fireplace features a sophisticated book-matched black slate fascia. At the same time, a circular chrome art piece placed in its centre reflects the surroundings and ever-changing seasons. With a most sought-after southern exposure, the wrap-around terrace features lush, raised planters filled with a beautiful combination of ornamental pear trees, hydrangeas, feather reeds and tall grasses framing the comfortable lounge furniture.