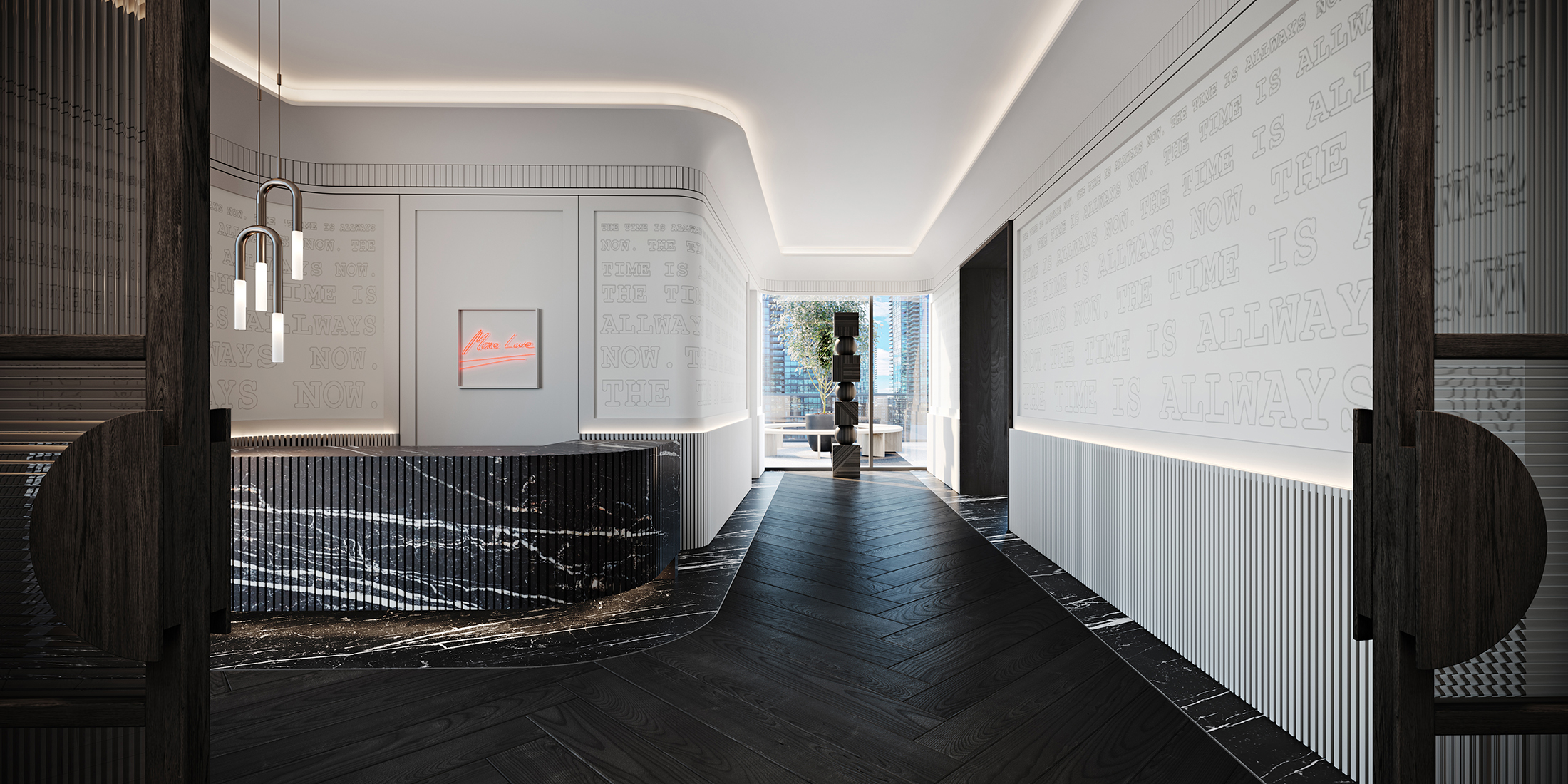 Canada | Toronto
Natasha The Residences
Celebrating the enigmatic personality with elegance and uniqueness, Natasha The Residences designed by award-winning Studio Munge for Lanterra Developments is a project inspired by limelight darling Natasha Koifman.

With its fashionable residences accessed through the 6th-floor luxurious sky lobby, discover a world where black and white complete each other like a leather jacket over a little black dress. Strutting through reeded glass doors over dark herringbone hardwood floors framed with marble borders, guests will gush over the lavish space curated with culture and mystery. Bespoke artwork by Peter Tunney adorns the foyer with graphic artistry, while a tall abstract sculpture by Kelly Wearstler leads the eye to the distant lush terrace. Contemporary crown mouldings and ribbed tambour panelling details are softly lit by the soothing cove lighting, bringing warmth and sophistication to the timeless interiors.

Share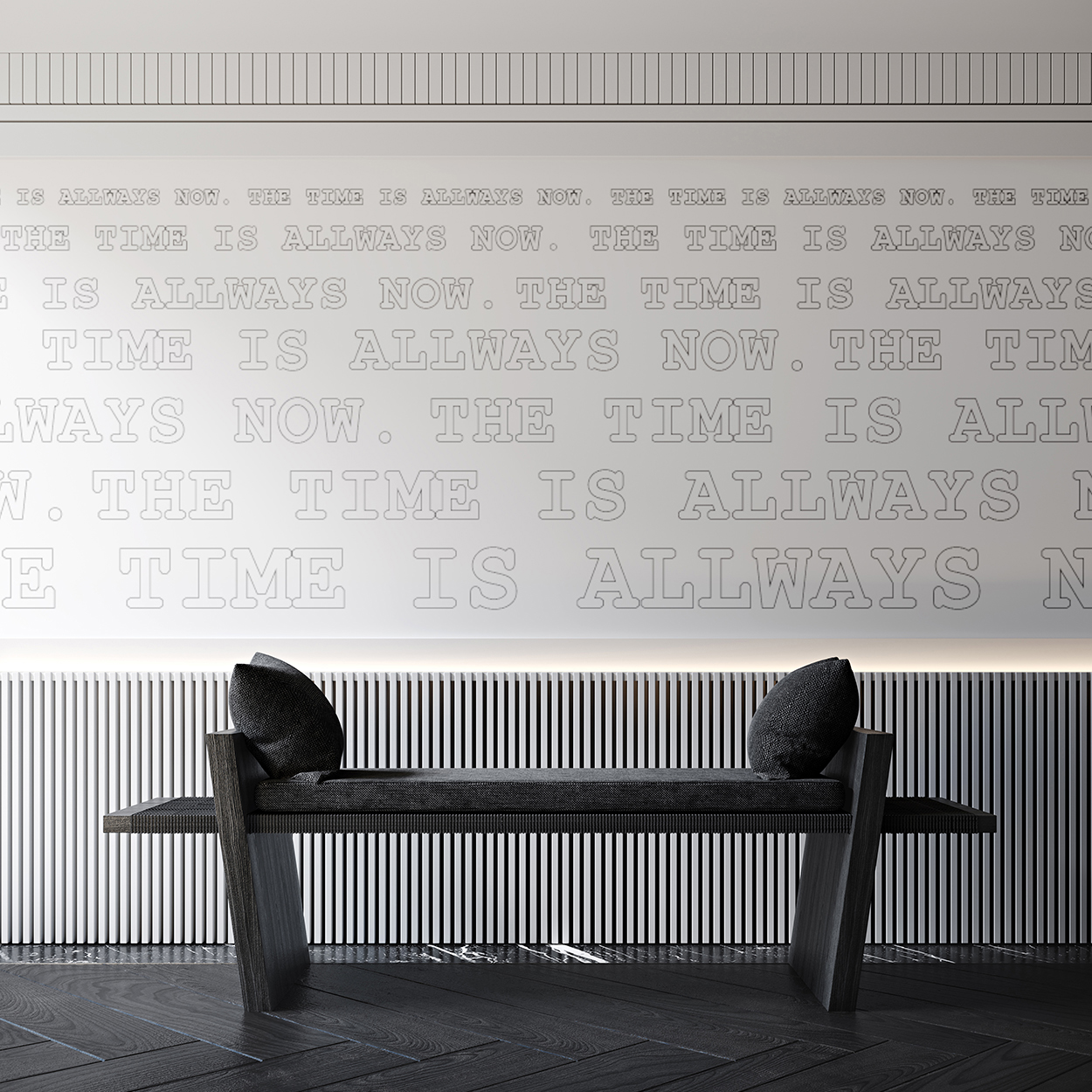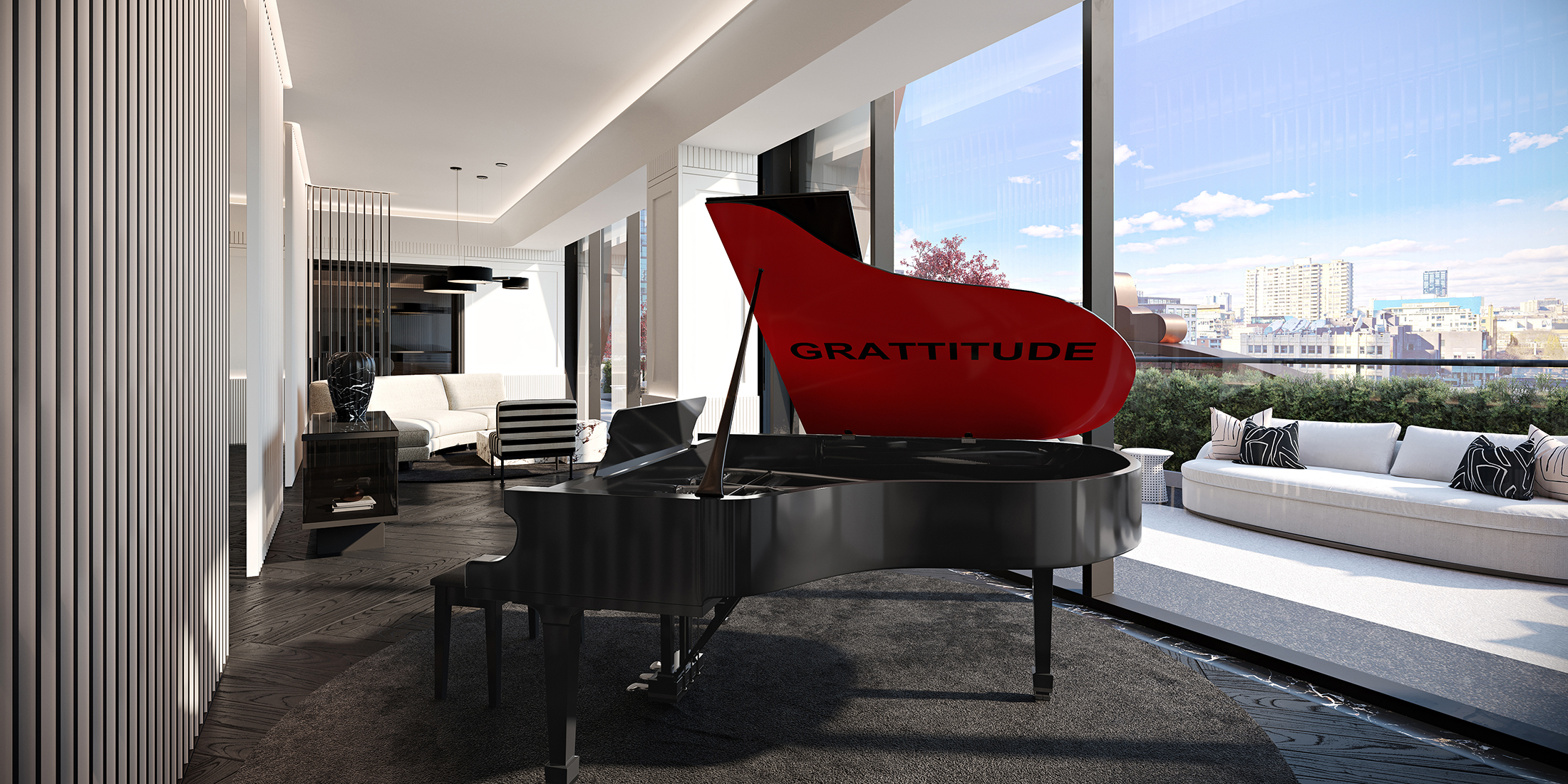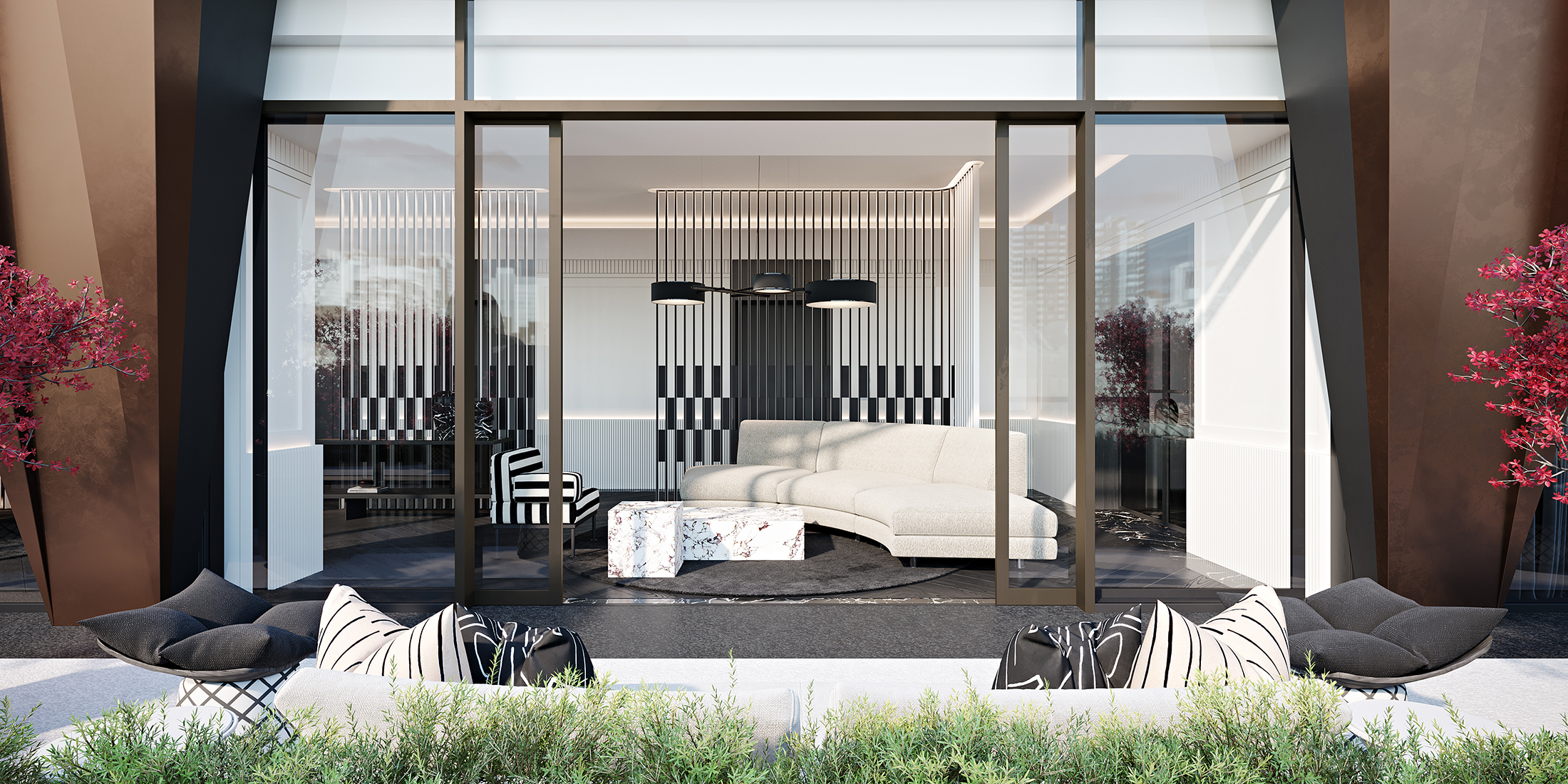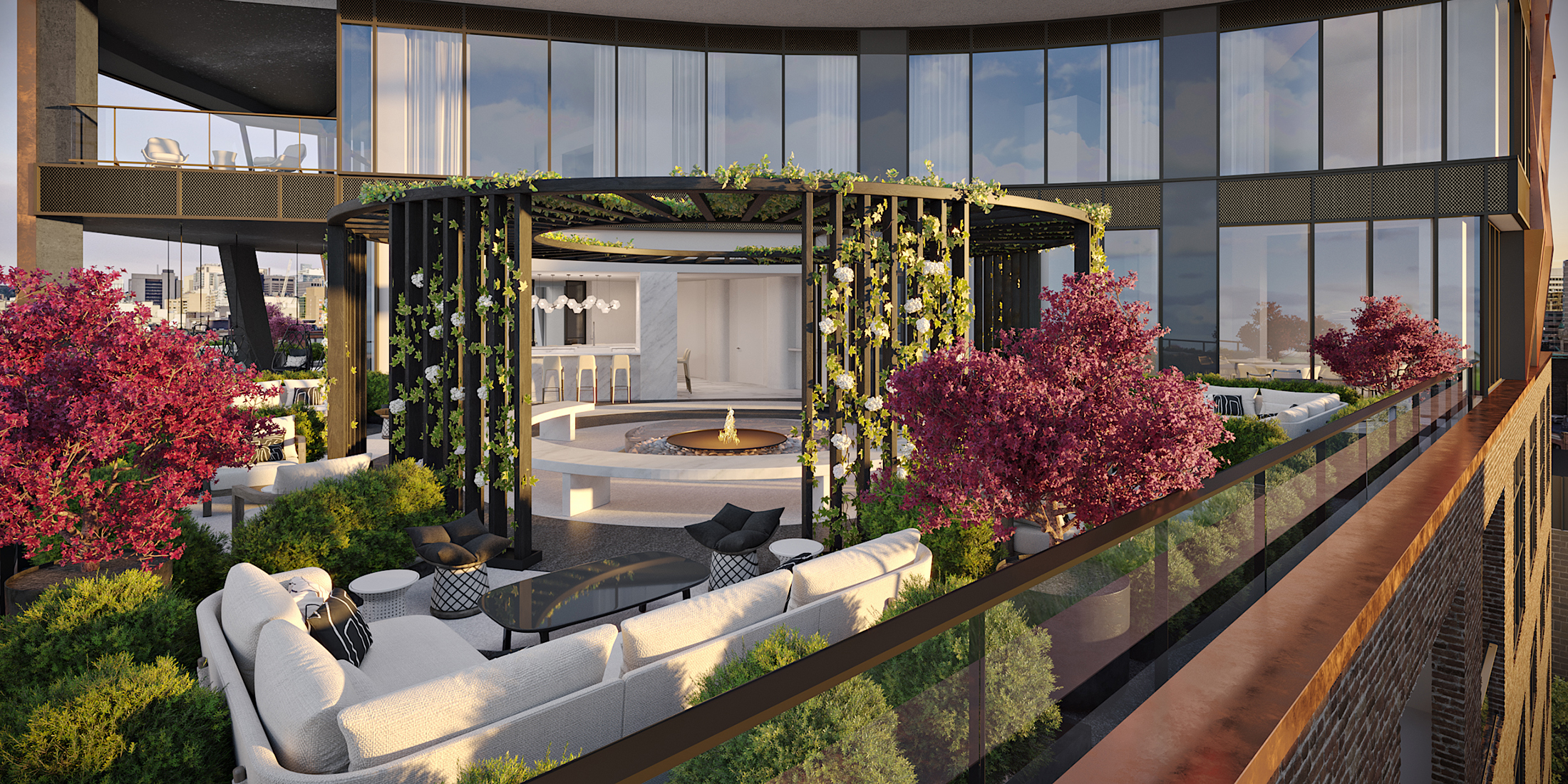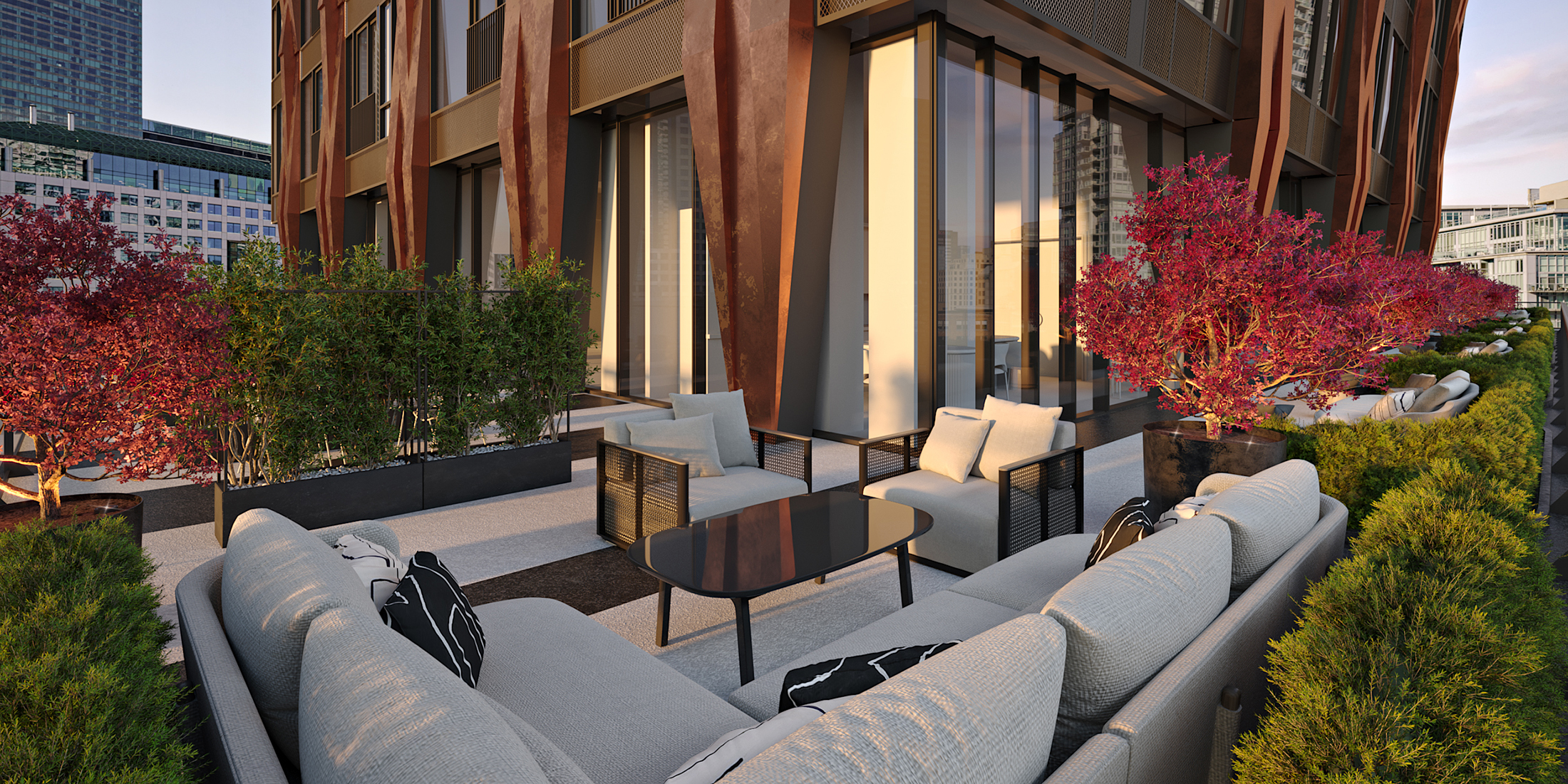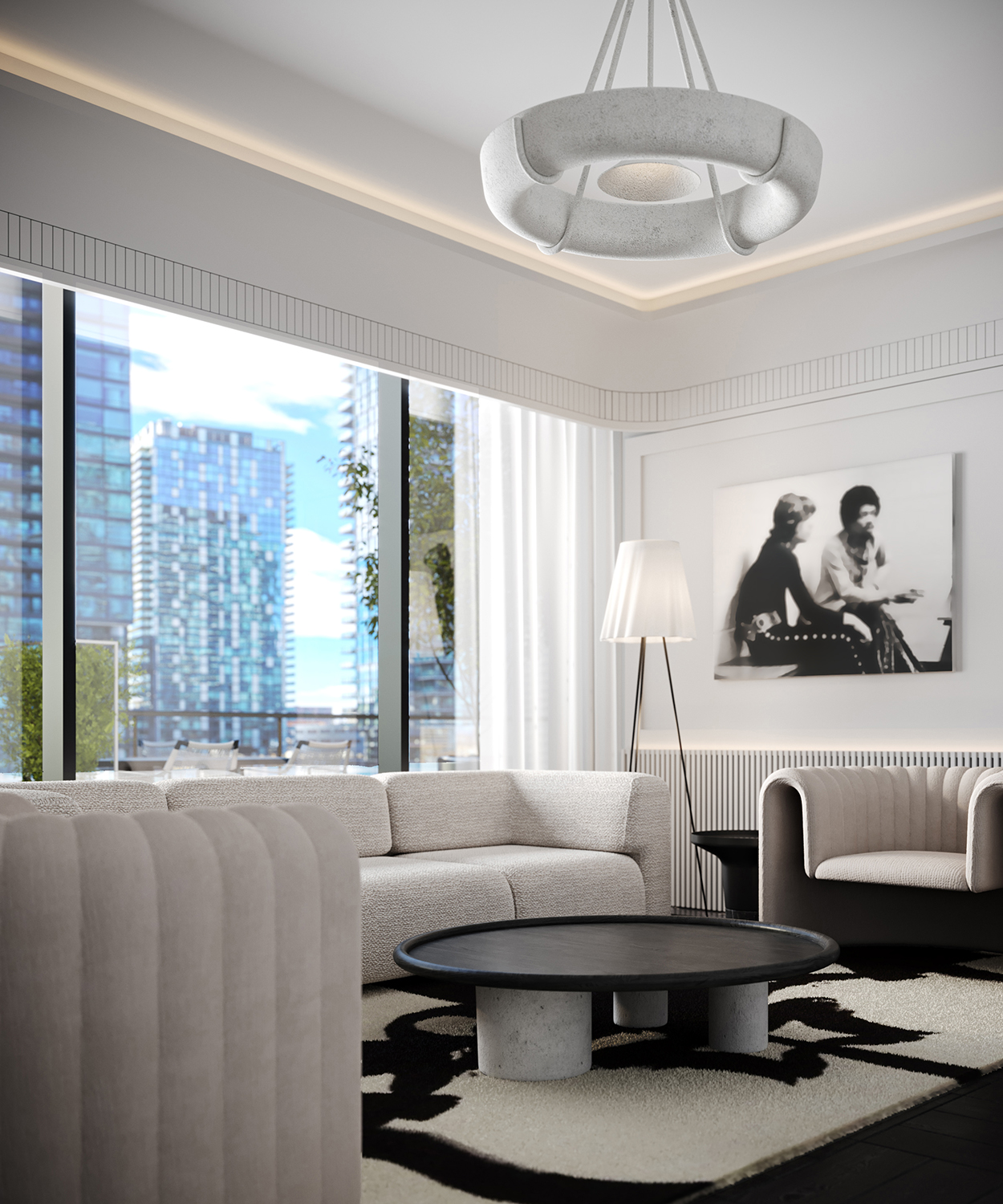 On this floor, multiple lounges and antechambers curated with contemporary furnishing create a collected sense of home while offering a stage for intimate dialogues. Behind a slatted screen, beautifully framing the salon with its curved edges, a self-playing black piano enchants and intrigues with its red lacquered lid as a nod to Christian Louboutin's iconic colour contrast. For the most festive dinner parties, a grand dining room connected to the indoor/outdoor kitchen seats nine. Partitioned from the wrap-around terrace with a retractable NanaWall system, the glamorous kitchen features an integrated pizza oven and an asymmetric u-shaped bar seating twelve.

The wrap-around terrace is a multi-layer destination and a private oasis for all ages, with its many experiential features honouring a connection to nature through urban landscaping. Under a dramatic circular pergola, a roaring fire pit brings people together while the nearby lounges made private with well-manicured hedges and lush planters welcome whispers and laughter. In the garden's covered section, plush hanging chairs swing freely in the air as an invitation to unwind and leave behind all stress.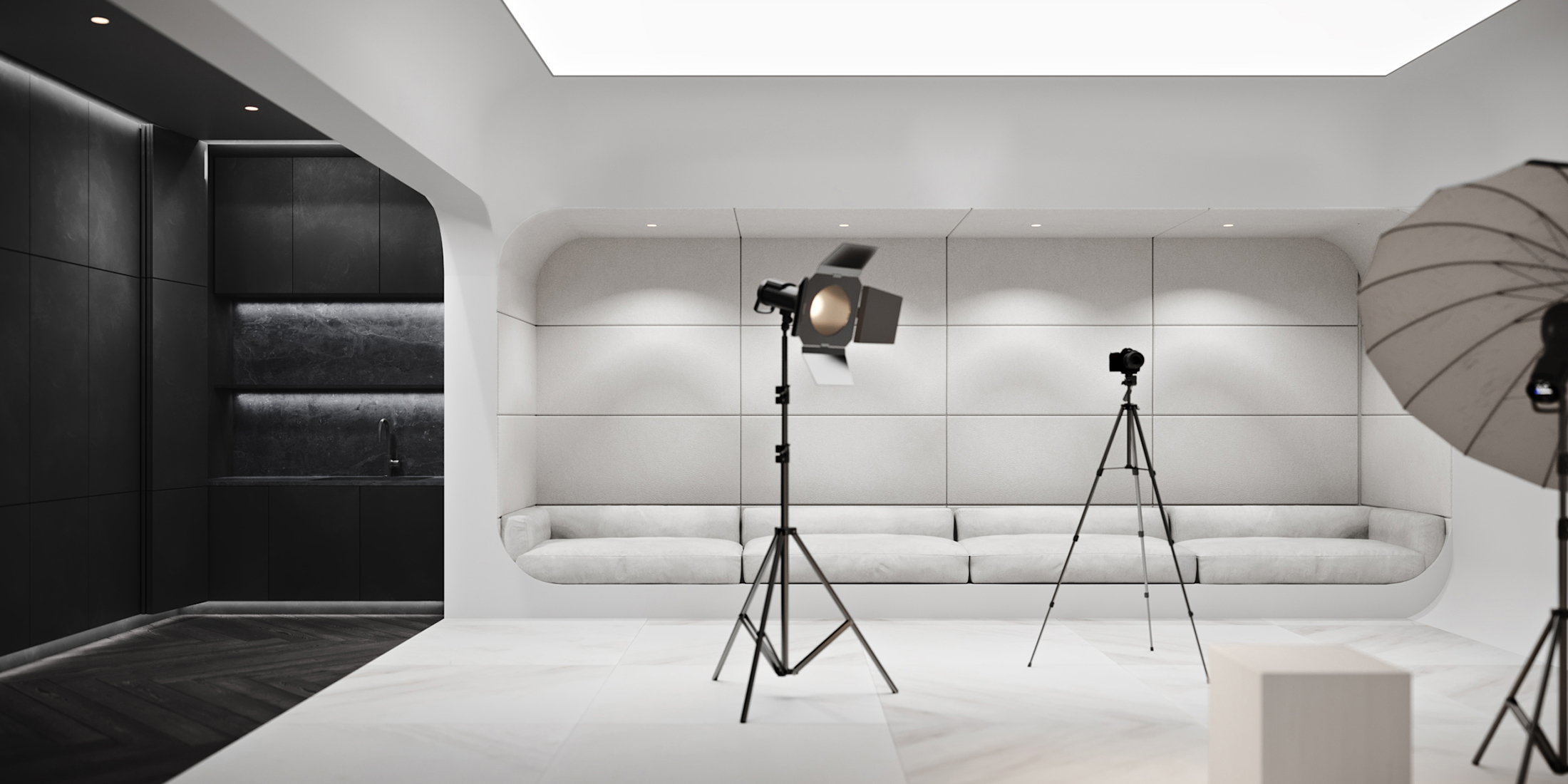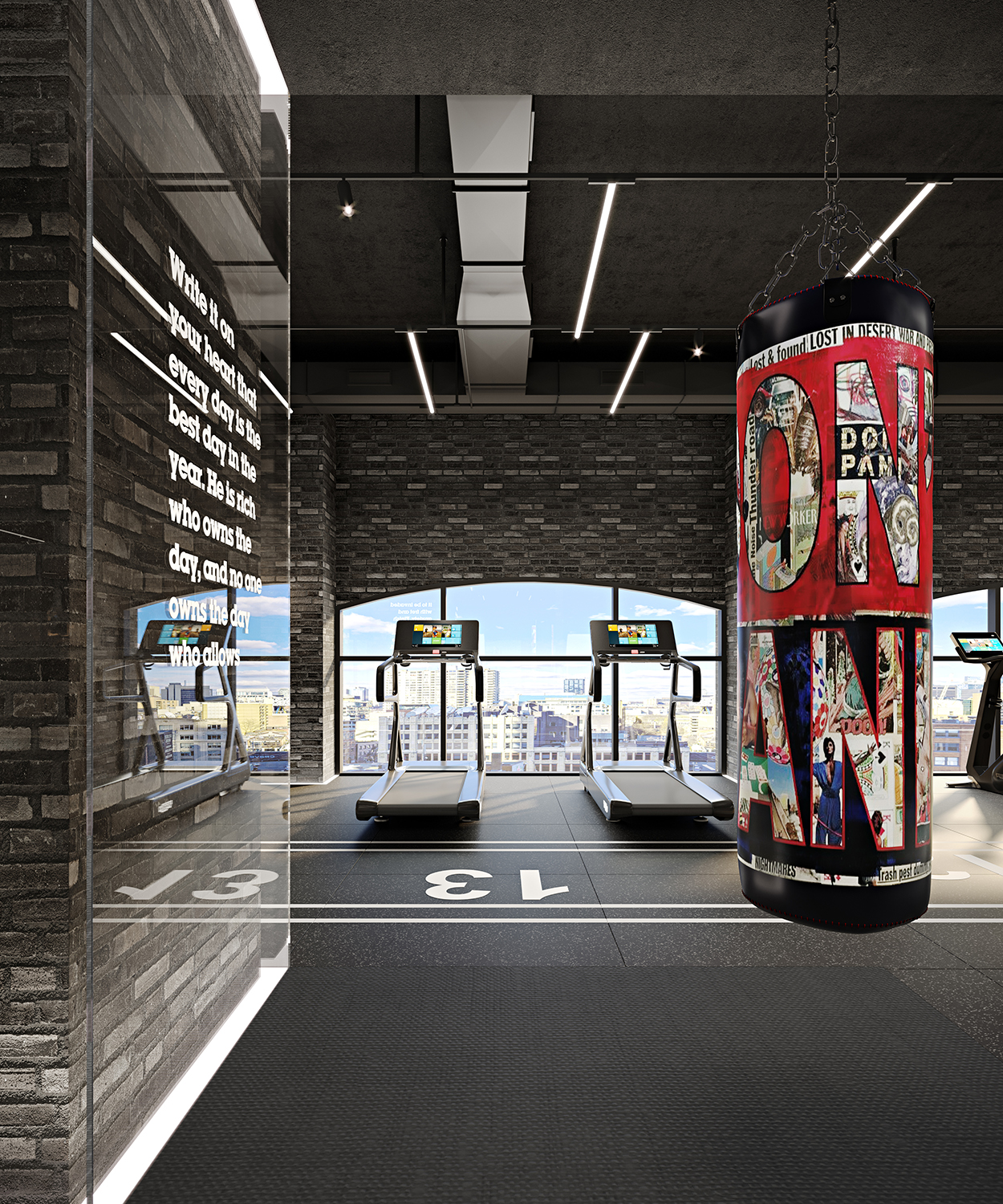 On the 5th floor, boasting an all-black palette of texturally contrasting brick, metal and rubber, the industrial gym will seduce fitness enthusiasts with state-of-the-art cardio and weight training equipment lit by graphic tubular fixtures. Three individual workout pods highlighted with dramatic lighting offer privacy for personalized training sessions. For core training, deep stretching and muscle relaxation, an infrared yoga studio and a wood-clad dry sauna balance the residences with a focus on wellness and self-care. Supporting self-producing artists and influencers, a multimedia studio, including a private kitchenette and green screen, is a versatile room inviting musicians, foodies, fashionistas and TikTokers alike to produce their everyday content from the comfort of their building. Pet-friendly, Natasha The Residences also offers an indoor grooming salon and pet promenade allowing furry friends to beautify and strut in style.

Designed for the edited lifestyle as a safe retreat from the day-to-day, the contemporary residences range from bachelor suites to 3 bedrooms apartments. Celebrating Natasha's passion for cuisine, modern cabinetry concealing integrated appliances bring composure and bold elegance to the picture ready kitchens. Designed "a la carte" with pantry upgrades, integrated bar, spice racks and more, this entertainment haven behaves like a custom suit, perfectly embodying the fashion guru's passion for tailored experiences.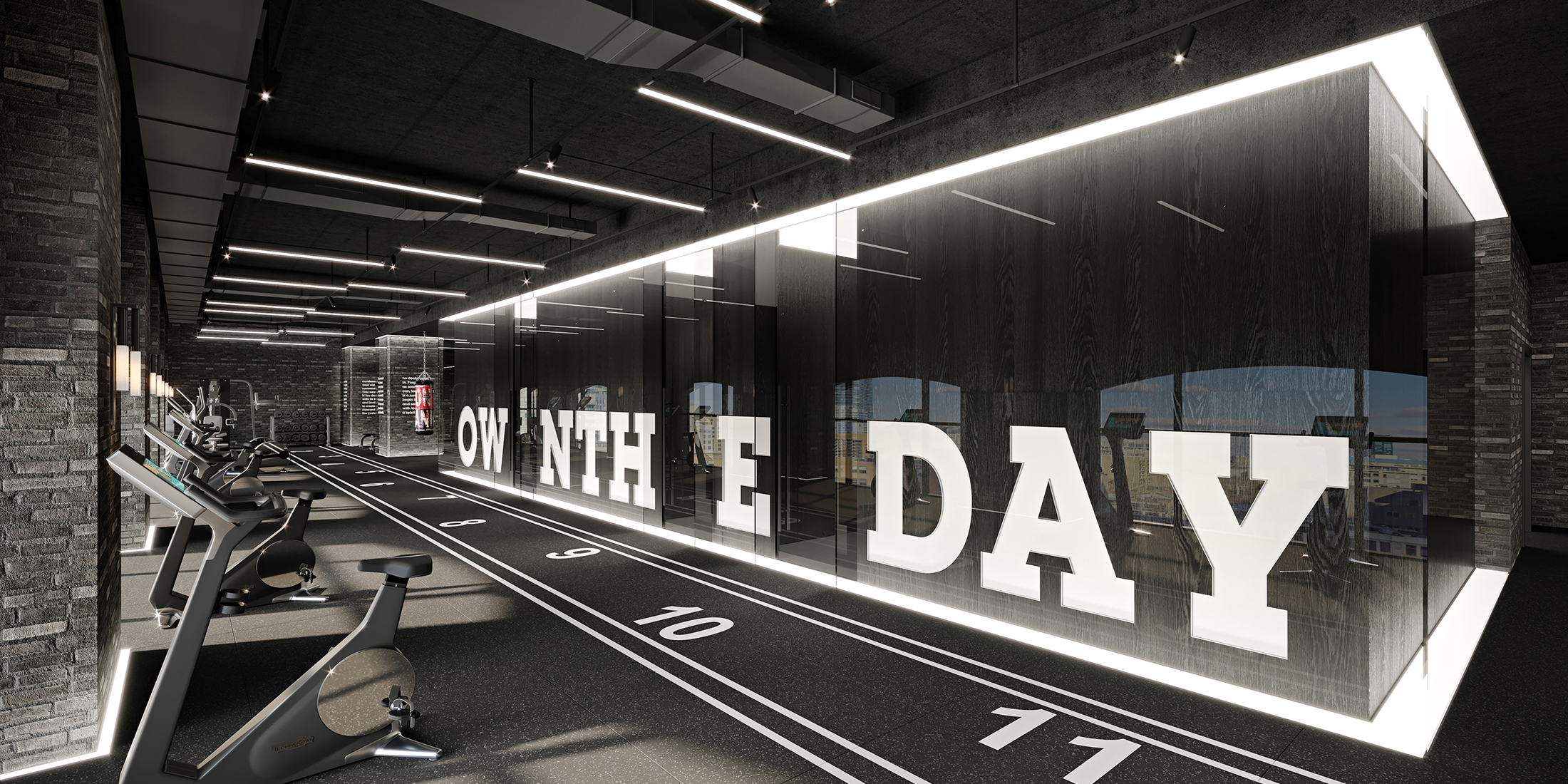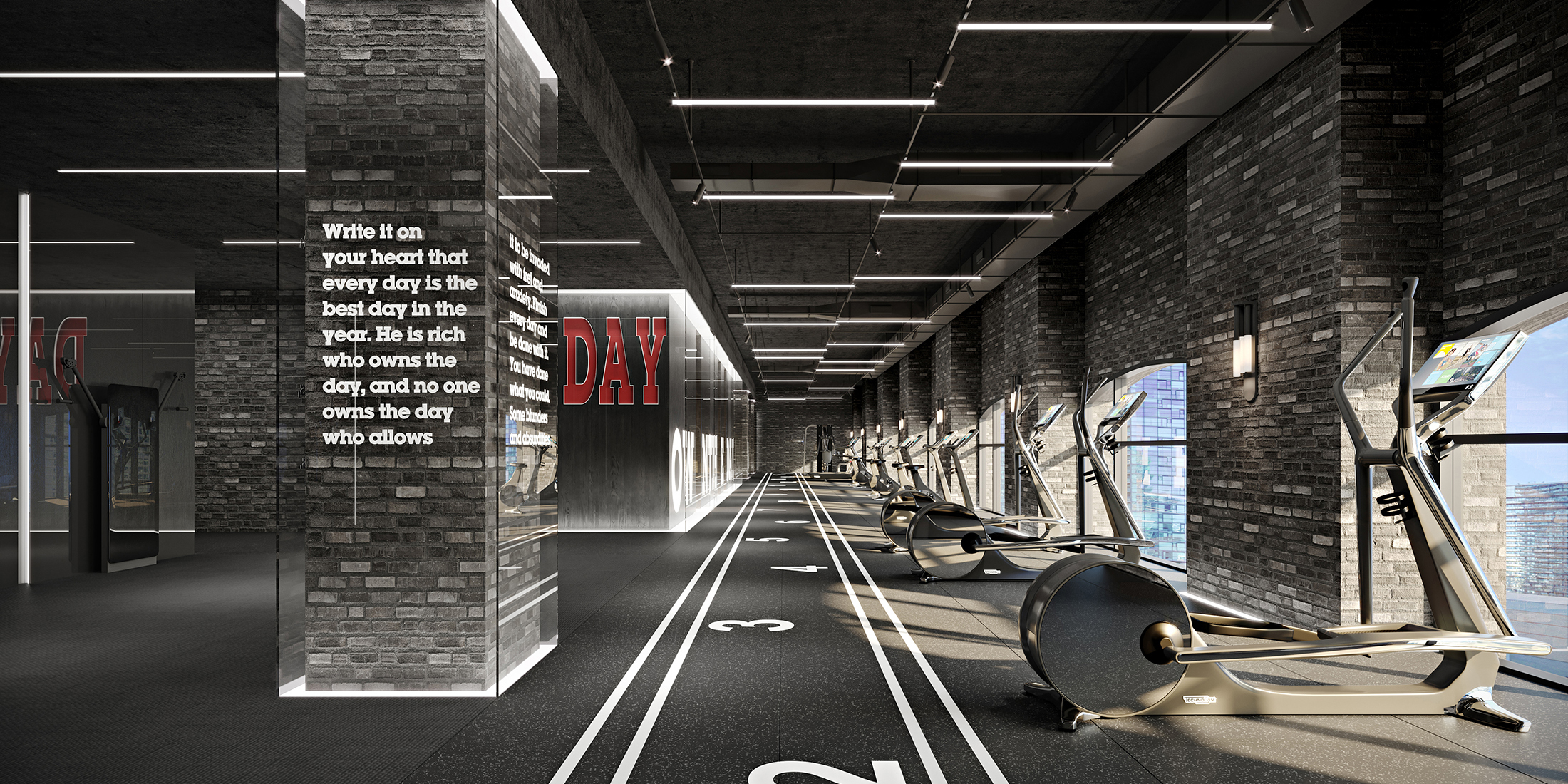 "More than a condo tower, Natasha The Residences acts as a hub for like-minded influencers and modern urbanites. It is an incredibly relevant and community-based project that meets the needs of a new generation. There is a real sense of belonging that will come from sharing those social amenities. It is very much about celebrating life and the pleasure that comes from entertaining and being together."
Alessandro Munge