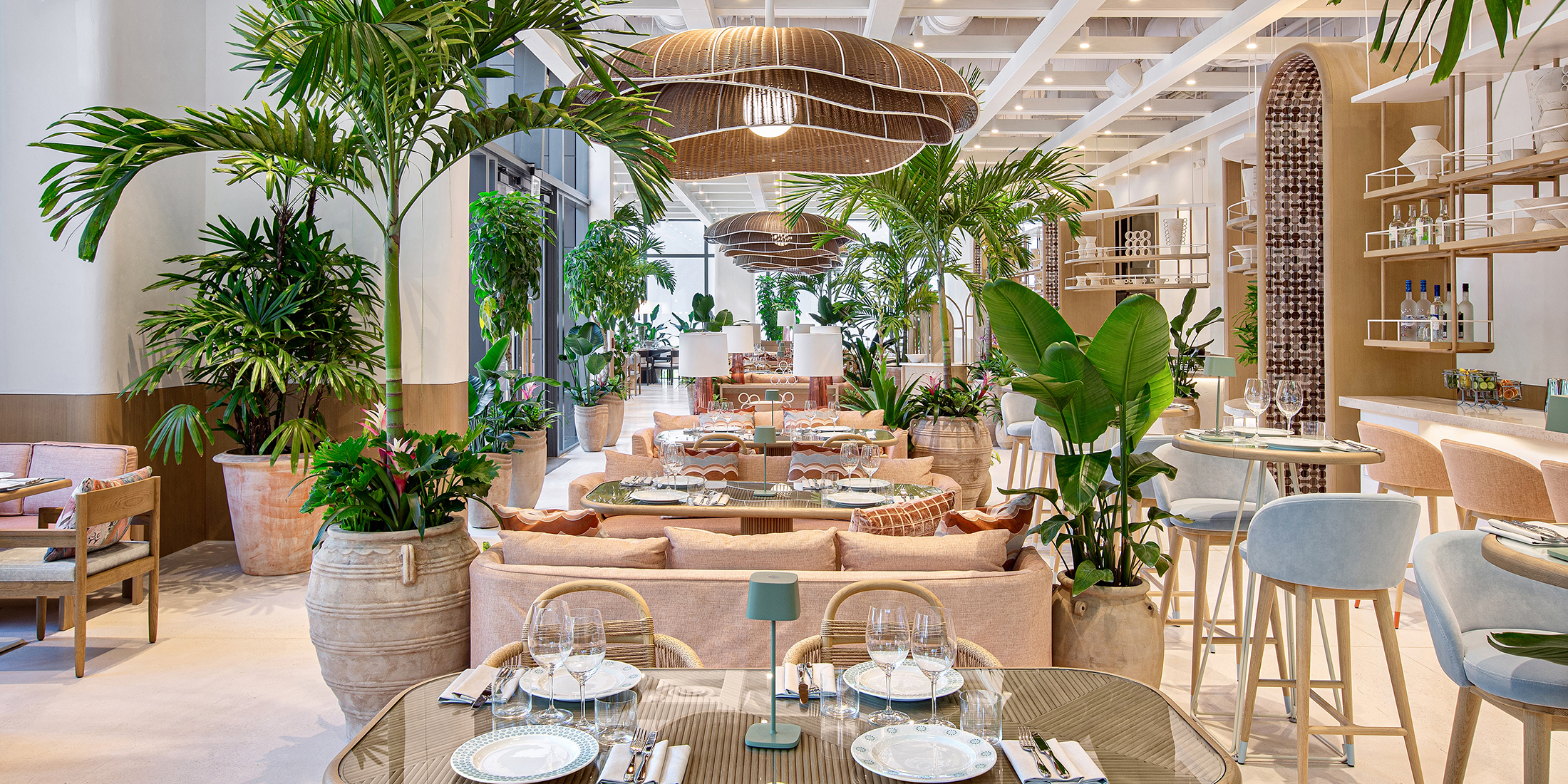 USA | Miami & Florida
Amal Miami Coconut Grove
In the heart of Miami's vibrant Coconut Grove, Amal designed by Studio Munge, arises as a romantic escapade in Lebanese cuisine's (re)discovery. Infused with soulful residential motifs and sensibilities, the venue is a thoughtfully detailed, fresh, uplifting destination catering to sophisticated urbanites seeking culinary escapism.

Inspired by Lebanon's sandy shores and contemporary Mediterranean architecture, the multilayered restaurant features a soft palette of dusty rose, muted terracotta and pastel blues juxtaposed against white plaster and raked natural oak wood - elevating the space from daytime celebrations to evening feasts.

In the curated double-height dining room, a whitewash pergola and a myriad of handcrafted planters filled with lush tropical greenery create a comforting atmosphere and a sense of indoor-outdoor living evocative of the beloved Mediterranean lifestyle. In a signature move, the recurring natural raked oak wainscotting runs the entirety of the space, softly contrasting the white plaster walls and polished concrete floors while tall arched portals connect the open kitchen and bar to the dining room.
Share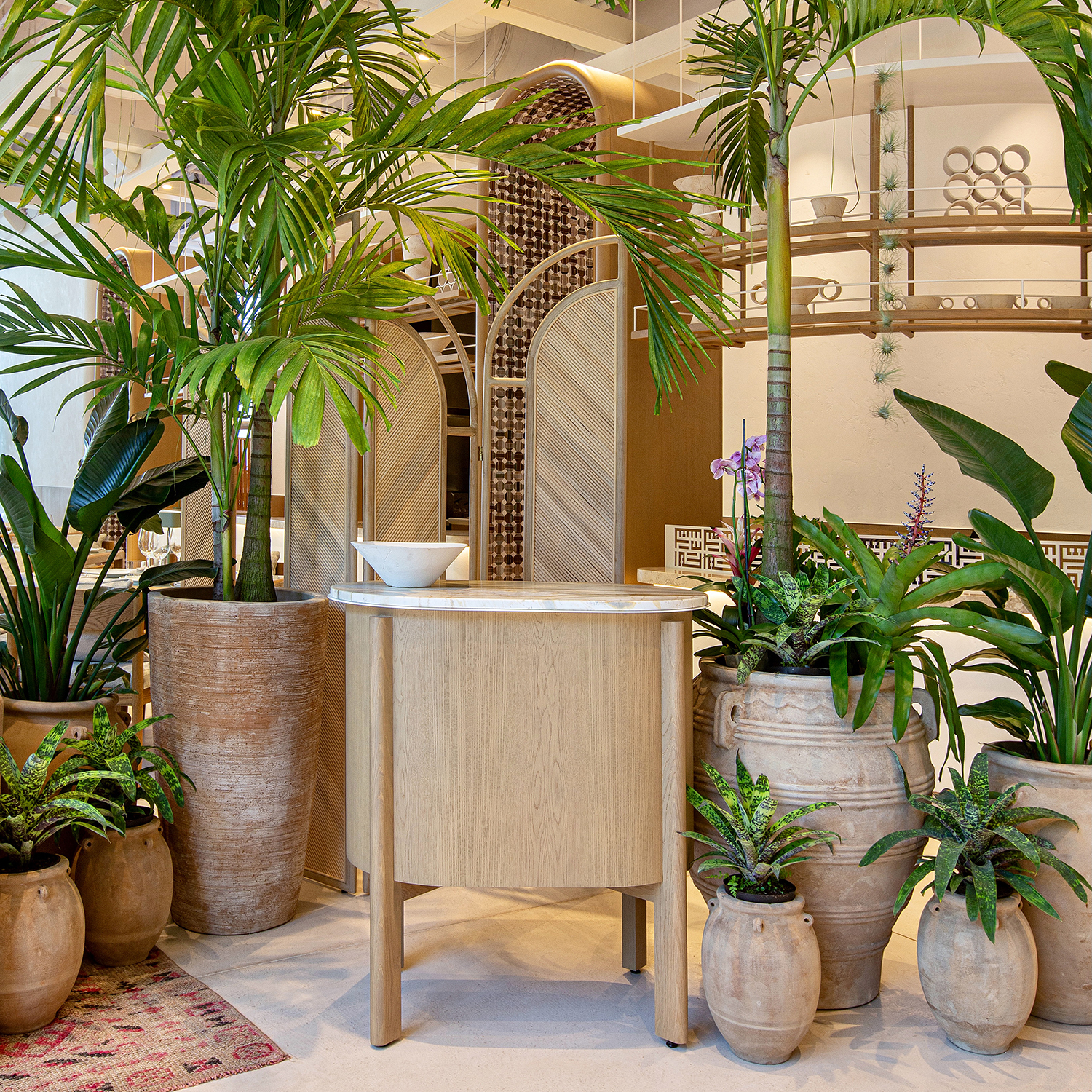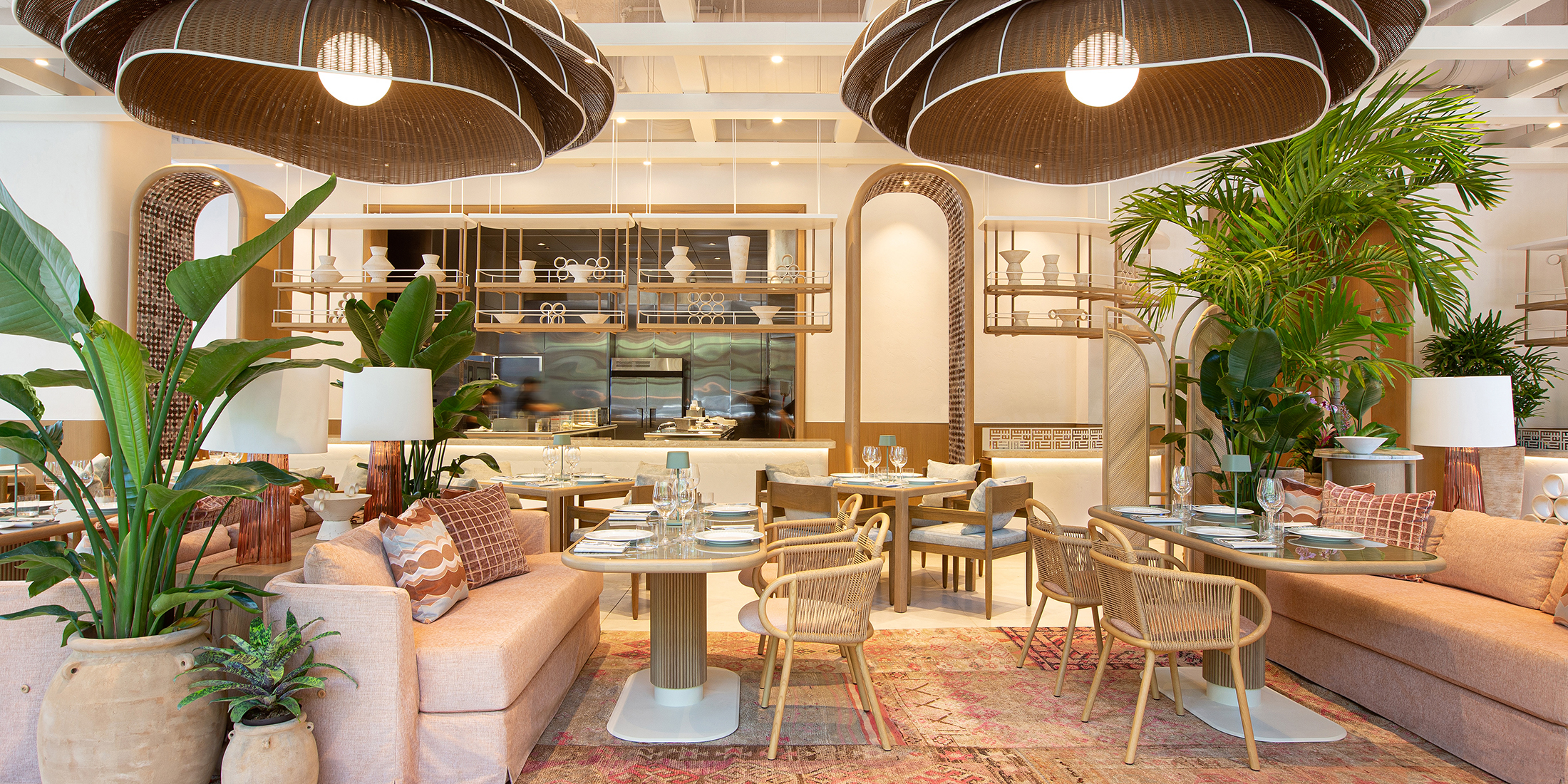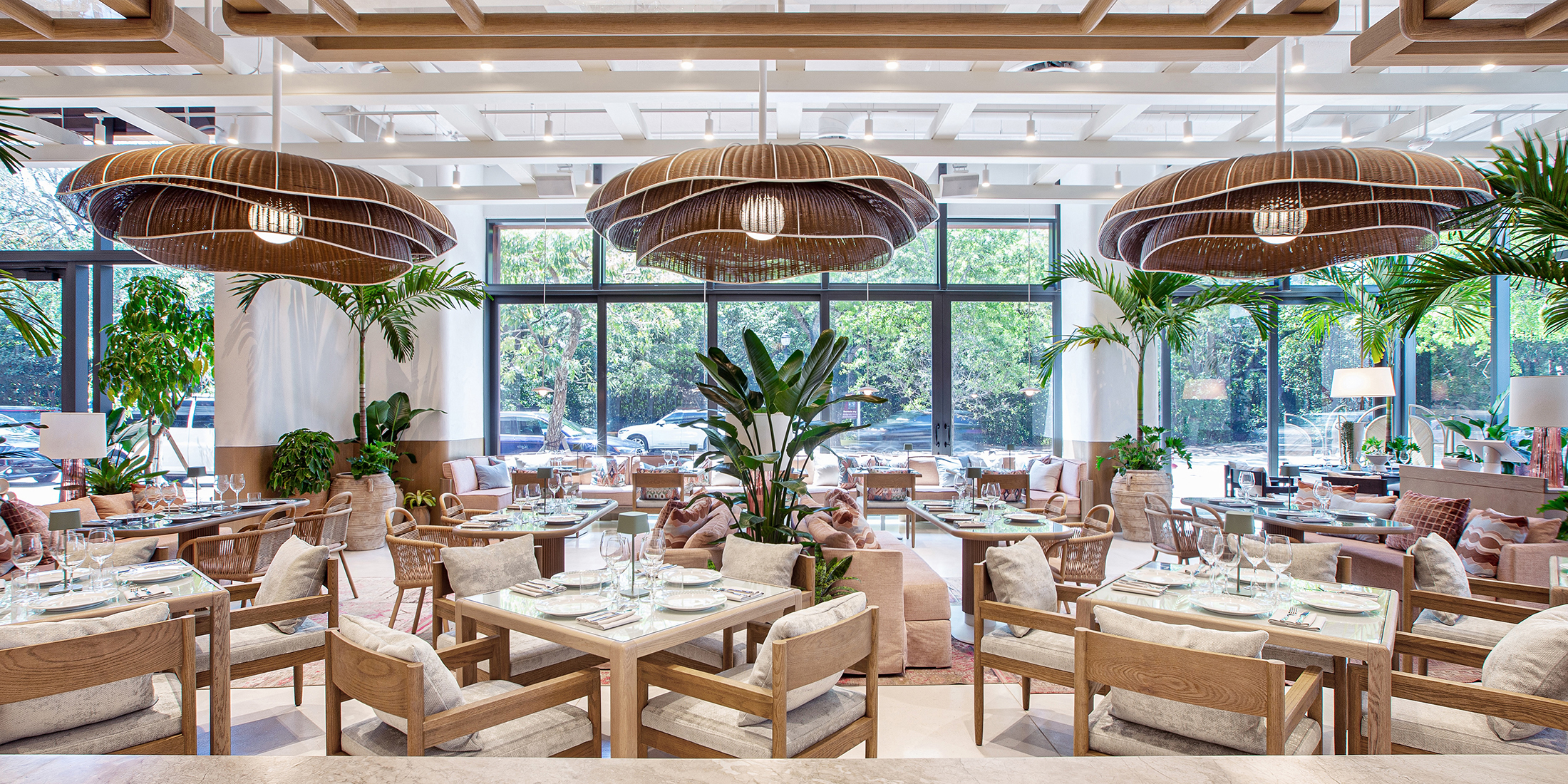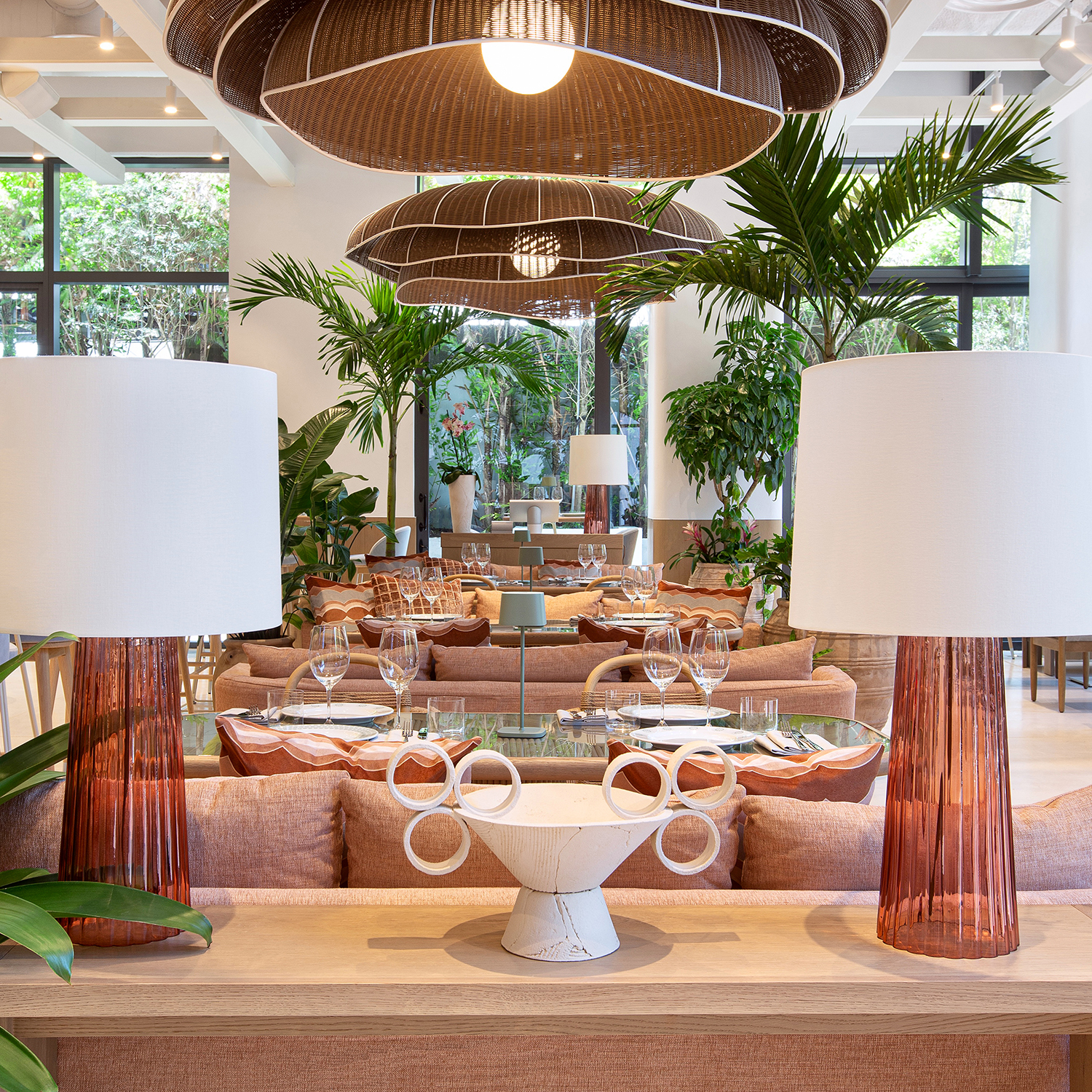 Atop eclectic vintage rugs artfully sawn patched in the centre of the room, a mix of dining chairs with woven rope accents and cosy dining sofas covered in plush patterned cushions invite guests to relaxation before indulging in delectable treats and artful mixology.

A series of 8 feet-wide oversized woven baskets gently stack as floating in the air, forming whimsical bespoke light pendants inspired by the coconut husks found in the nearby grove. Those uneven naturalistic layers alongside tambour details in the tabletops and bases add authenticity and a profound sense of craft and artistry to Amal Miami.

Above the gently curving bar topped with creamy leathered marble, delicate tubular floating glass shelves display tableware and a collection of sculptural earthenware artefacts curated by international art consultant GZ Art Co and handcrafted by famed ceramic artist Ben Medansky.

"Amal Miami is a fresh take on ground floor activation with a truly energizing space planning. Curated with lush layers of furnishings, art and vegetation, Amal is an invitation to celebrate Life and create meaningful moments."
- Alessandro Munge