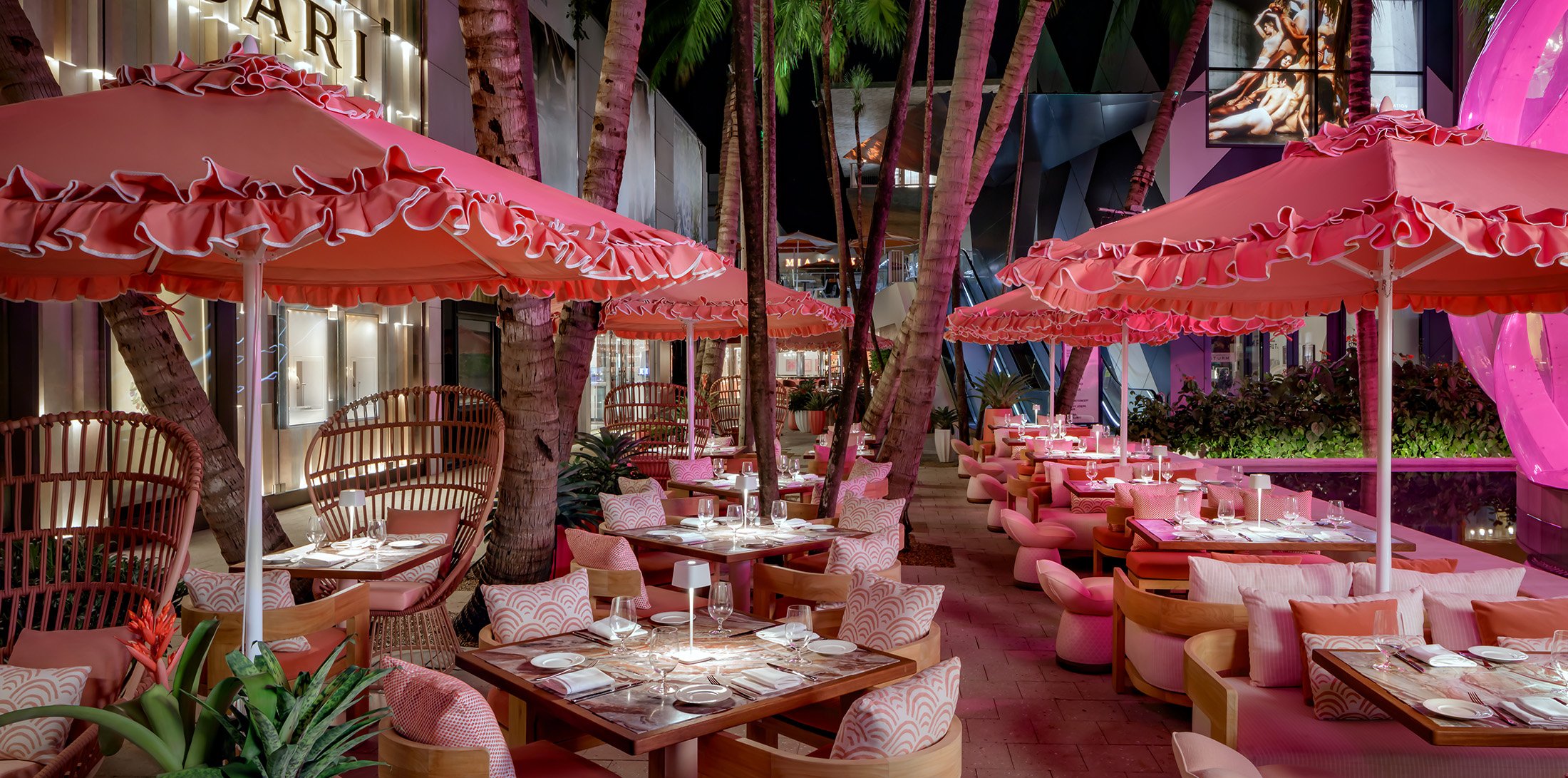 USA | Miami & Florida
Sofia Miami Design District
In the heart of Miami's Design District, nestled between European jewellers and designer boutiques, Sofia reigns as the exuberant Princess of Miami, born out of a love affair between Contemporary Art and Italian cuisine. Imagined by Studio Munge for leading hospitality group INK Entertainment, the venue is an exciting fashion-forward addition to chic Palm Court and the ideal stage to celebrate life in style.

Featuring a luxuriant sense of arrival framed by lush planters, Sofia is a glamourous, bold and unexpected experience that seductively reveals its charm as guests meander through its catwalk. Livening the terrace imagined as a secret garden, a joyful curation of flamingo pink lacquered pieces, teak furnishings, and soft textiles is a playful design statement hinting at the artful experience ahead. Frilly rose umbrellas boast a fresh silhouette rooted in tradition yet utterly contemporary, while modernised peacock chairs pay homage to Miami's illustrious Deco past.

Capturing spectators' attention and welcoming guests, a one-of-a-kind fixture illuminates a gleaming indoor/outdoor bar. Composed of twisting amethyst resin tubes meticulously lined up in an undulating wave, the shimmering chandelier was custom designed by Studio Munge as a crystalline couture choker resting proudly on Sofia's shoulders. Perfecting the luminous gregarious bar topped with Enigma marble, elegant Spalla barstools by Alessandro Munge were specified in polished chrome with texturally contrasting amethyst velvet and leather.
Share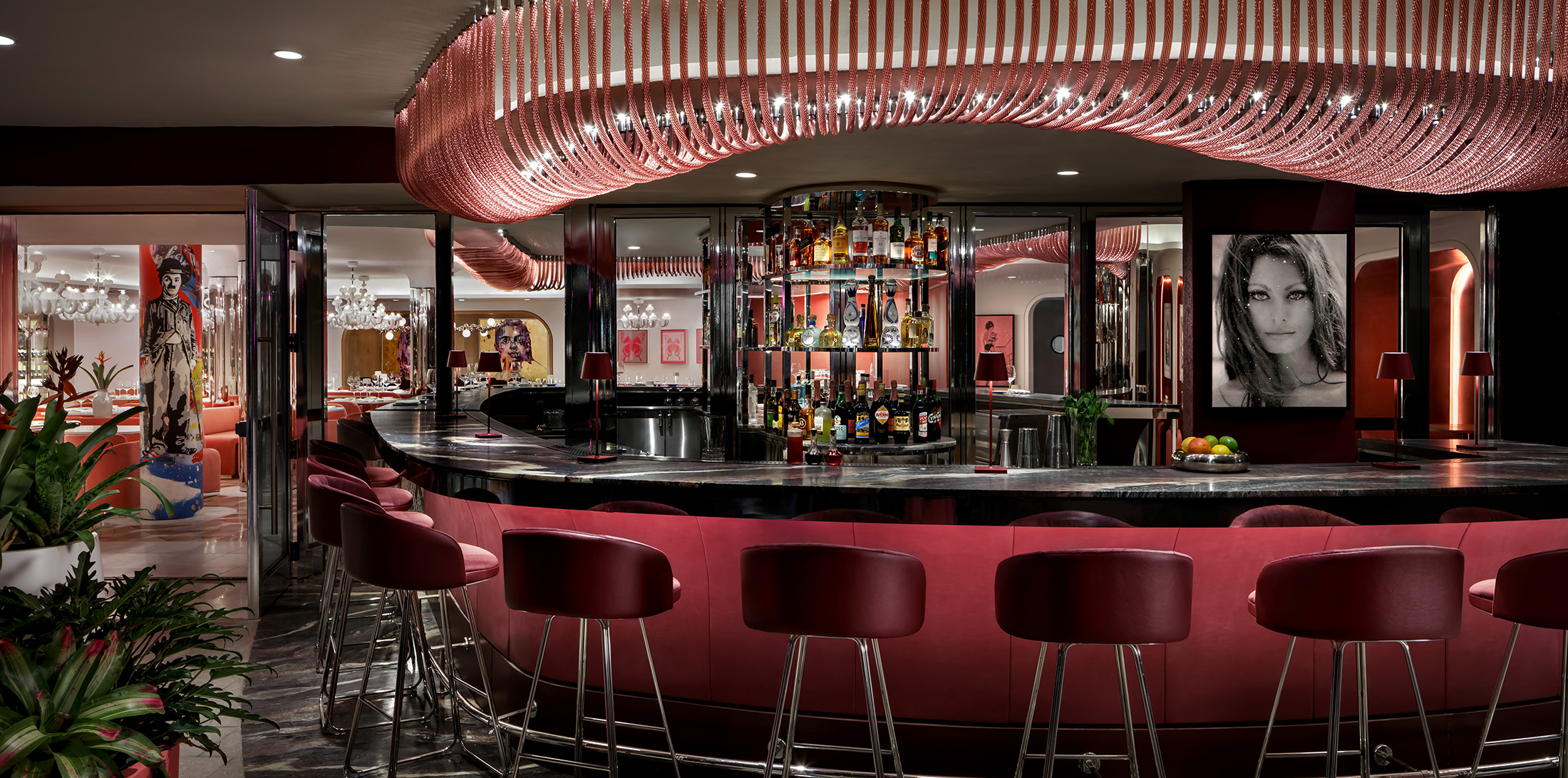 "Its teak terrace, dotted with frilly pink umbrellas, will whet guests' appetite, further stimulated by, say, a negroni siciliano sipped on an amethyst velvet-and-chrome stool beneath the custom tubular-resin light fixture at the Enigma marble-topped bar."
- Surface Magazine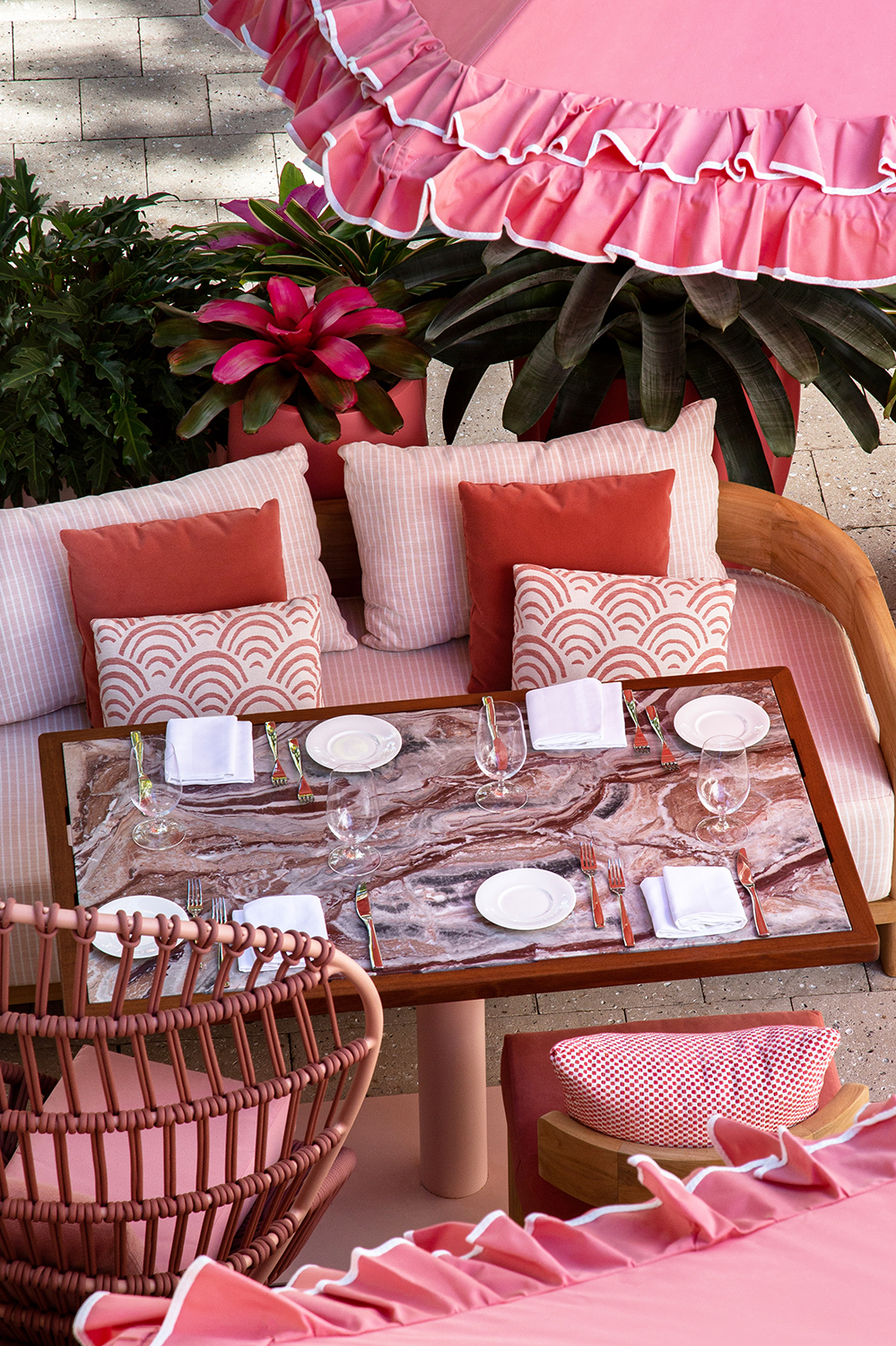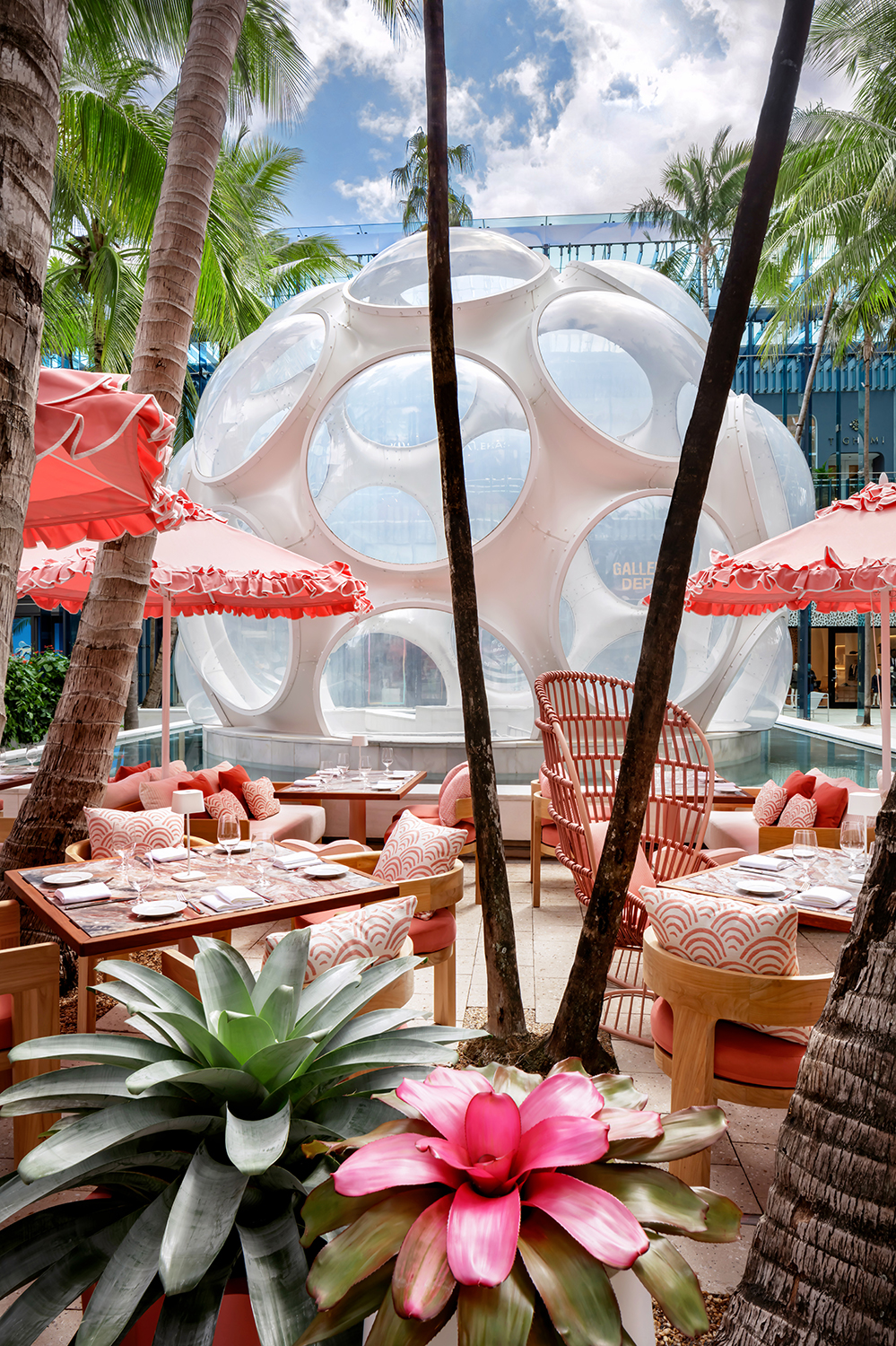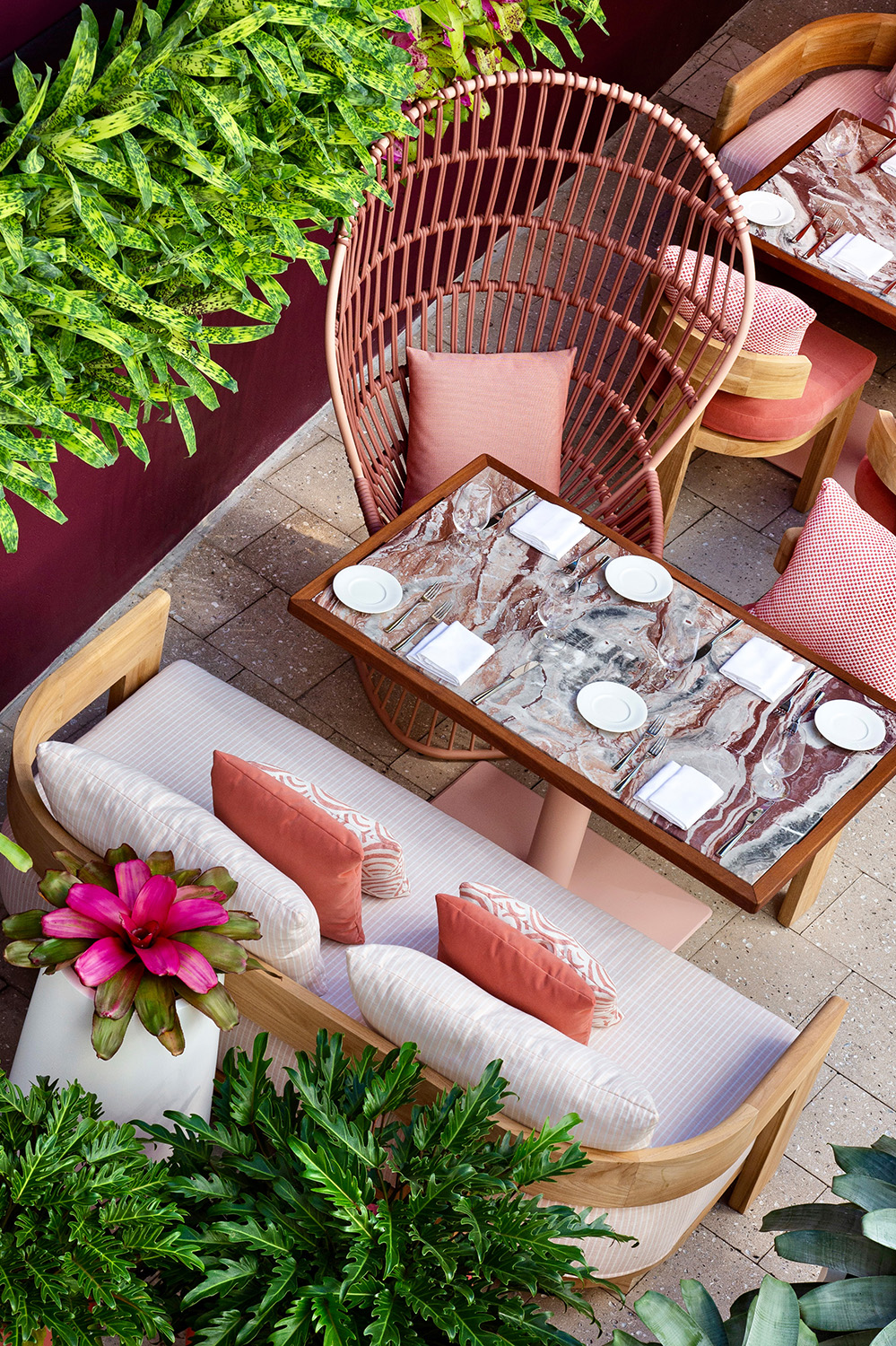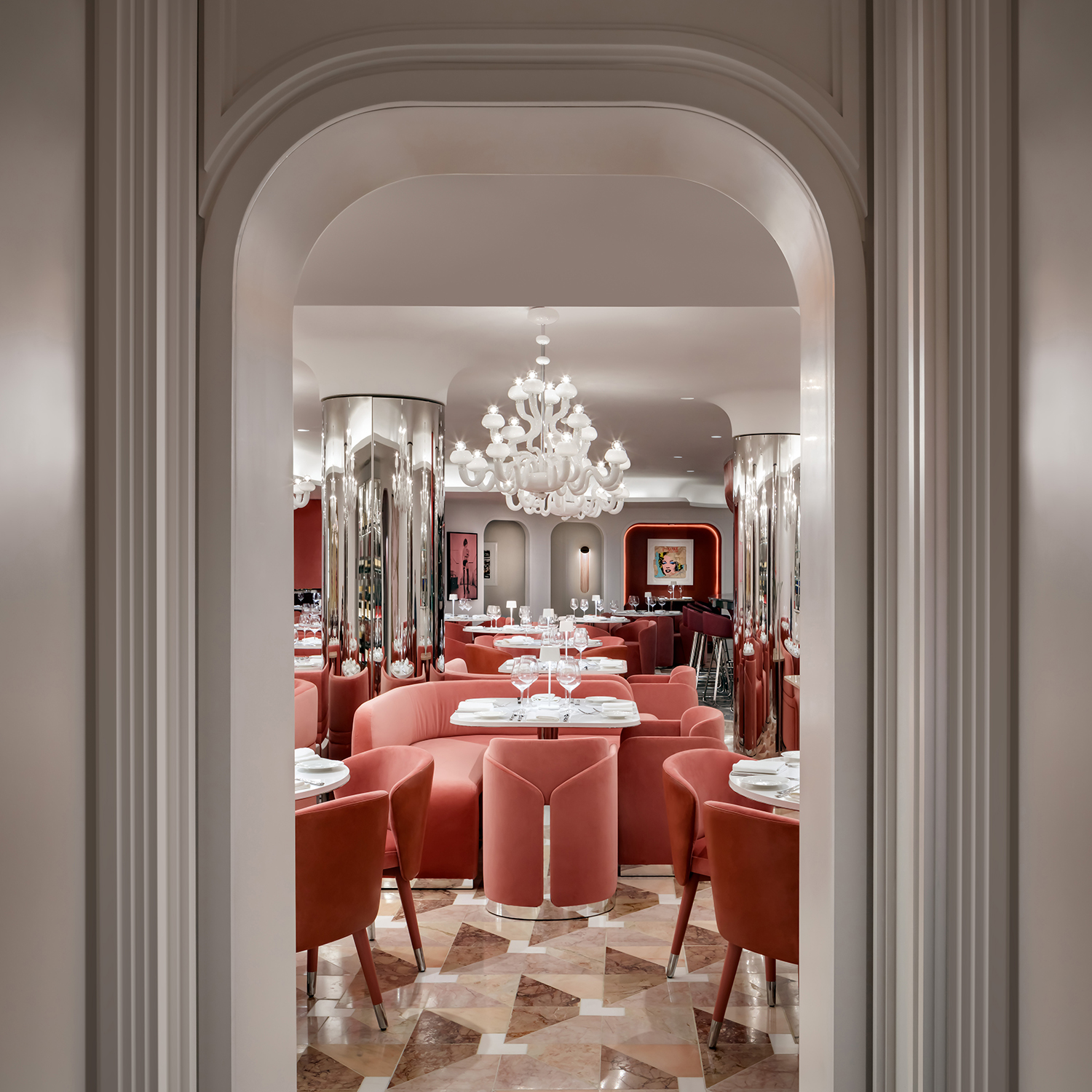 When exploring Sofia's dining room, Miami's sartorial elite and international jet setters will instantly connect with the venue envisioned as an art dealer's entertainment den curated with pieces by Marco Grassi and Mr Brainwash. Defining the space, the beautiful honed marble floor boasts a modernised Deco pattern combining five pink and white marbles: Arctic White, Breccia Pink, Desert Pink, Rosa Portogallo and Milky Pink.

Dangling on the white ceiling like precious earrings, nine custom Barovier & Toso milky white glass chandeliers illuminate the room with continental sophistication. The elegant opaline fixtures were masterfully handblown and imported from Murano Island as treasured souvenirs brought back from a Venice escapade.

In the dining room, graceful, mirrored columns and polished chrome cabinets reflect Sofia's extensive art collection and flaming pink velvet upholstered furniture. While most tables will host groups of four and more, three intimate niches offer a recessed point-of-view for smaller parties and a perfect setting for whispered secrets. In their centre, framed by sleek pink leather upholstered curved walls, portraits of Grace Kelly, Sofia Loren and Audrey Hepburn by Russell Young elevate the room with their iconic glamour and charisma.

In the semi-private dining room hosting up to 14, a custom Bubbly chandelier by Rosie Li playfully dances above the table. On its side, a half-moon glass cellar invites celebratory libation while appreciating the three-piece band staged nearby.

Inspired by the bold aesthetics of Sofia Toronto expressed in Louboutin red and white, Sofia Miami by Studio Munge seduces worldly travellers and locals alike with its flamingo pink and amethyst palette, couture design, Italian glam and exquisite taste.