USA | Los Angeles & California
The Elwood Club at Pendry Newport Beach
Behind closed doors, past the Secret Garden and Anthony James' mesmerizing light sculpture, the Elwood Club is an exclusive experience catering to the local elites and sophisticated jet-setters. Imagined as a signature multilayered experience by Studio Munge, the private members club ignites the senses and hearts of socialites in search of pure entertainment.

Greeted upon arrival in an octagonal parlour clad with rich walnut wood panelling, guests will instantly feel a sense of exclusivity yet warmth characterizing the artful experience ahead. In its centre, a carved stone desk curated with residential furnishings supports the host as they invite the clientele to explore a collection of antechambers and distinctly unique hospitality experiences. In the hallway connecting all rooms, navy leather upholstered walls are the backdrop to a curated collection of framed artworks. The procession repeats with sapphire blue lacquered portals to create dynamism, pulling guests forward. Positioned at the corridor's end, a second host greets guests in front of a tailored vitrine curated with collectable vintages.
Share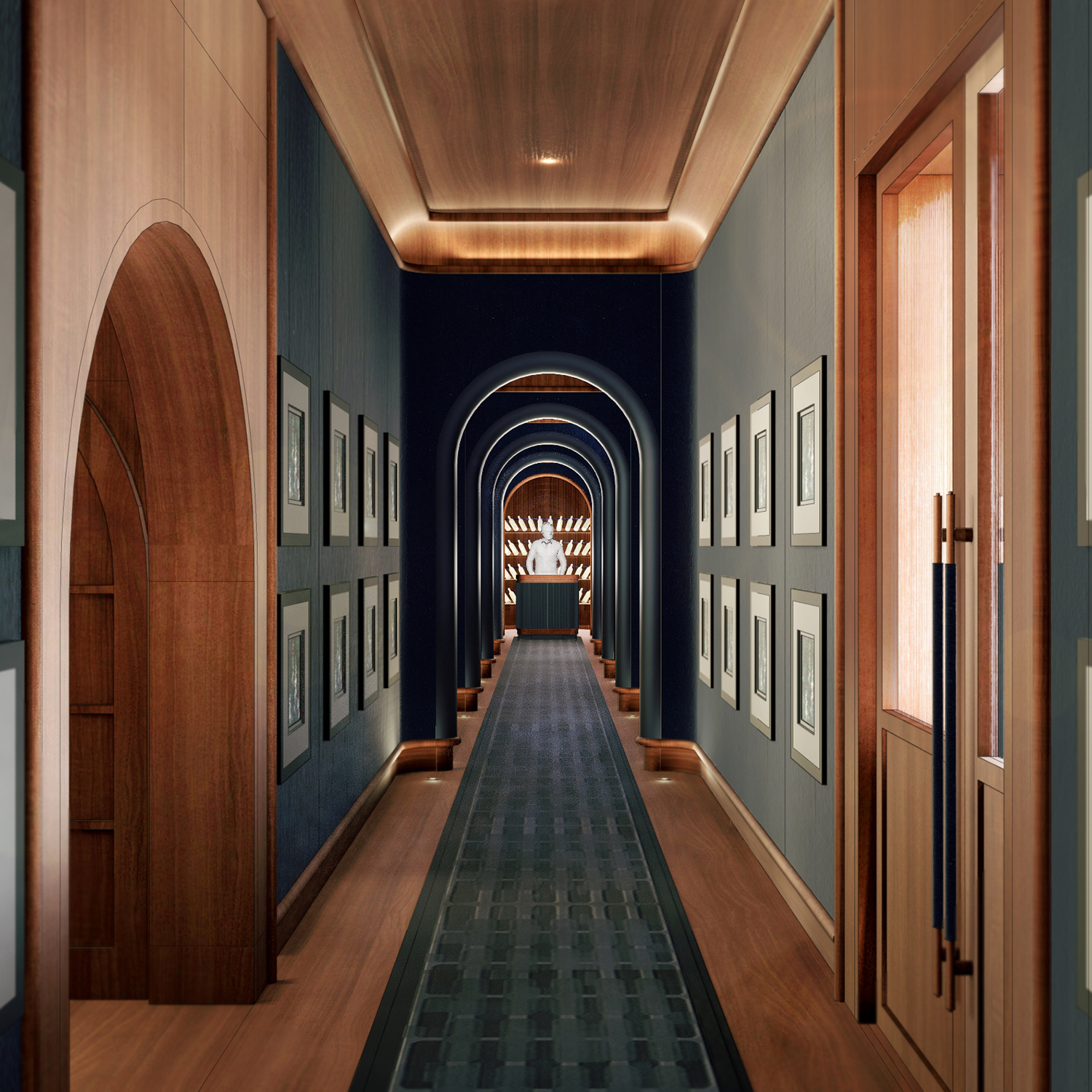 To the right, tie-back burgundy velvet drapes mark a departure into an iconic glamour and libation in the Entertainment Room. Calling all celebrations, guests will first discover the showstopping bar. Adorned with a sunburst mirrored back bar, it stars a shimmering champagne brass metal canopy that evokes a sense of contemporary jewellery, like a caged cuff bracelet. Juxtaposed against the dramatic Patagonia granite, burgundy velvets and ruby lacquers define a flirtatious palette like lipstick to walls, upholstered furniture, pillows, drapery, and sheers. Above the centre room framed with cosy banquettes, a whimsical bespoke ceiling mural invites exotism, displaying a lush botanical garden. Atop the rich dark hardwood floors in a chevron pattern, loose tables are ideal for small groupings and can easily be rearranged to accommodate an intimate occasional performance stage. Tucked away, the most exclusive Owner's Corner is a circular alcove defined by luminous contrasting gold velvet drapery. Under its glamorous tiered glass chandelier, a circular banquette covered with plush accent pillows calls for lounging in the most coveted viewpoint to enjoy the show.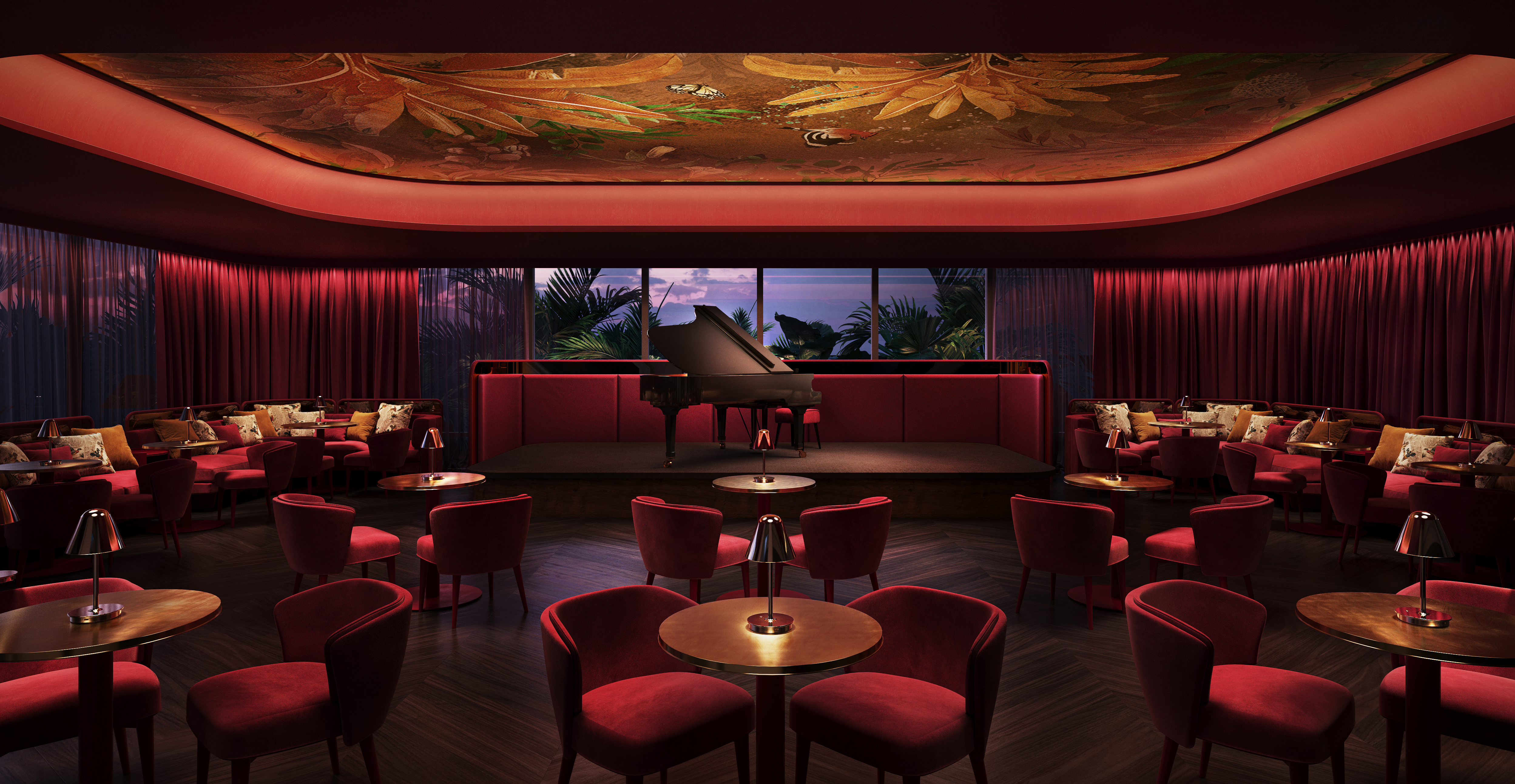 "Pendry Hotels & Resorts just reinvented the private club. And it's spectacular... The Elwood Club is a perpetual daily celebration—of music, art, travel, fashion, food, drink, wellness, and sport based on an unrivaled collection of venues for its members, including a private restaurant and bar with garden terrace, a swanky cabaret and bar, a pub with a golf simulator and screening room, a members' only boardroom, and a rarified gallery of art pulling each space together."
- FORBES Magazine
As a contrasting experience, a few doors down the hall, the family-oriented Gastro Pub evokes wholesome British hospitality favouring endearing familiar sensibilities. On the floor, vintage area rugs and a checkered pattern mixing off-white Calacatta and peachy corallite marbles infuse the space with traditional charm, while lighter natural oak planks and millwork add a contemporary touch. Offering seating by the marble-clad fireplace and throughout the rooms, an eclectic mix of collected vintage pieces and modern furnishings are soulful mementoes adding residential comfort. Reached through the pub, the Game Room and golf simulator offer an ideal setting to practice with family and friends. It features an immersive tonal palette starring spruce lacquer, emerald velvets, grey leathers and houndstooth tweeds, lending the multimedia room its inviting and lounging qualities.

Across the hallway, an intimate chamber is reserved for the most private events, from confidential business meetings to friendly poker nights. Recalling the Family Pub's design language, the room offers a table for eight, comfortable seating, a vintage area rug and a credenza surrounded by natural oak millwork and tan leather upholstered panelling.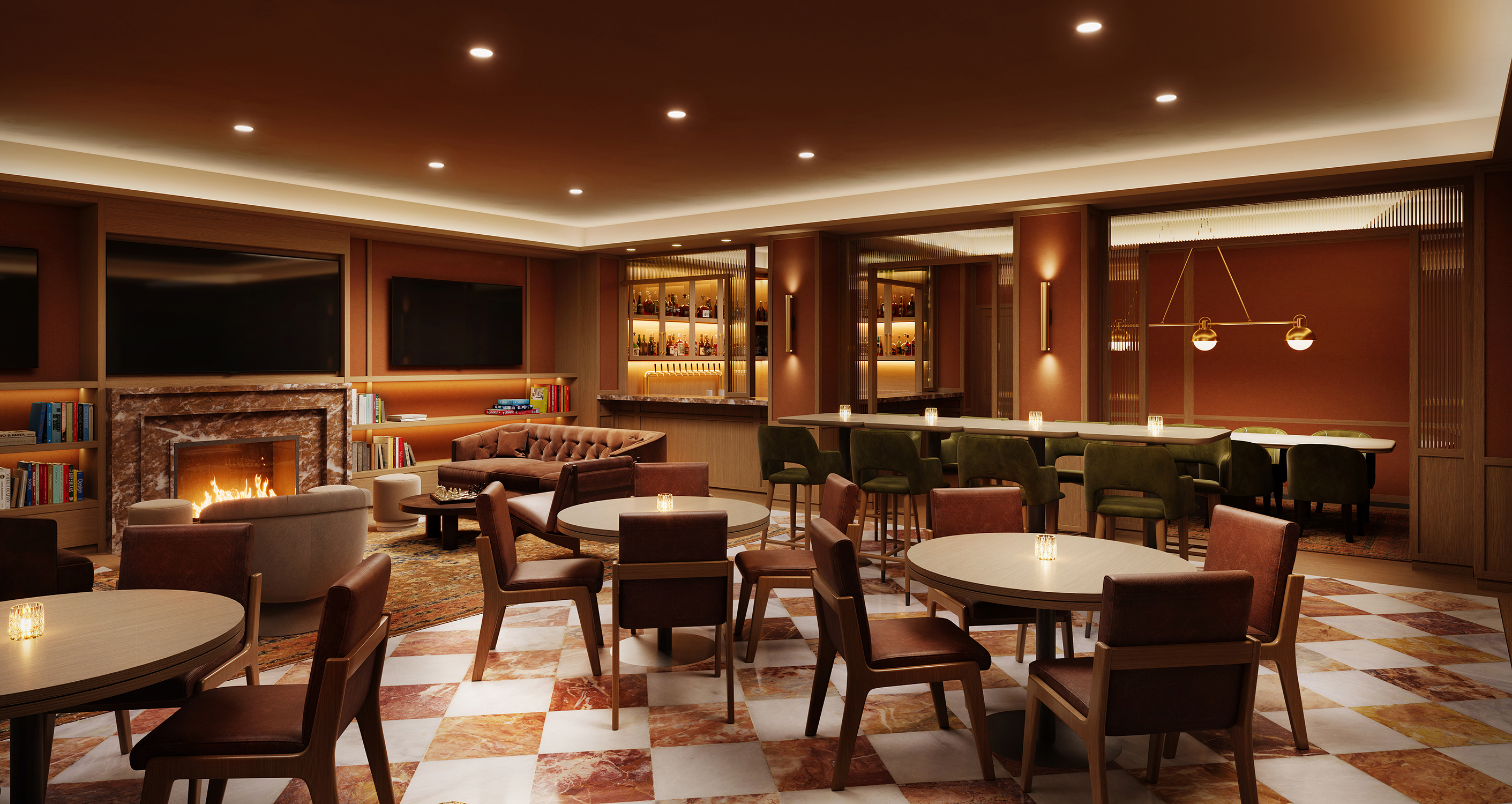 "Visiting the Viamara feels like exploring a jewel box, exuding continental charms and old Hollywood glamour."
- Alessandro Munge
Inspired by a golden sunset in a whimsical British garden, the Viamara is a layered oasis. Playful colour palettes energize the audience with yellow, lilac, and cream accents. Guests will instantly connect with the narrative as they explore the darling room embellished with storytelling details such as the watercolour floral mural positioned within the coffered ceilings, cream lacquered bullnose edge wainscotting or the light oak wood parquet flooring. Oversized tiered pendants with brass details evoke flattened crinolines as curtsying chandeliers while entire wall sections of opaline mirrors softly reflect the lush surroundings. Behind the carved stone bar, an arched sun-kissed mirror is etched with a channelled sunburst pattern, reflecting the room and collected liquors as prized jewels. Under the terrace's pergola, eclectic furnishing shrouded by lush planting welcomes al fresco dining illuminated with curated lanterns as a luxuriant sanctuary tucked away from the bustle.