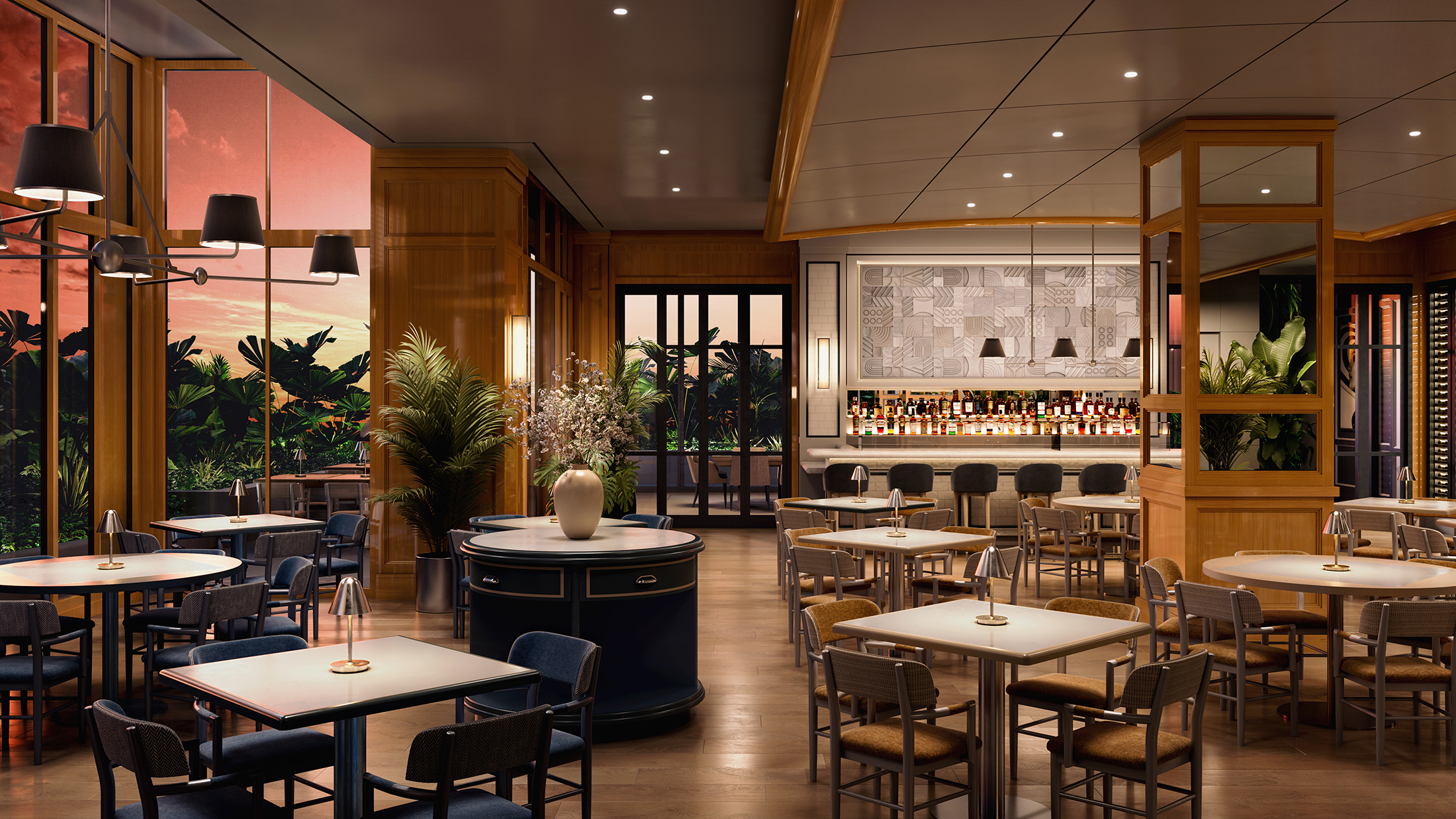 USA | Los Angeles & California
SET Steak & Sushi Restaurant at Pendry Newport Beach
Nestled as a prized pearl in the scenic Pendry Newport Beach hotel, SET Steak & Sushi Restaurant offers a culinary voyage to affluent locals and worldly jet setters. Designed by Studio Munge for Eagle Four Partners and Clique Hospitality, this culinary haven seamlessly blends the opulence of a modern steakhouse with the allure of a sophisticated sushi bar in a mesmerizing homage to the timeless nautical aesthetic.

SET Steak and Sushi's signature design narrative is an ode to the glamorous world of sailing and superyachts. Drawing inspiration from the exquisite Eclipse Yacht and the gentle ebb and flow of the ocean, the restaurant stars a beautiful nautical palette of rich Newport blue lacquers and warm, sun-kissed lacquered oak wood accents embellished with polished chrome accents. These complementary hues evoke the calm serenity of a tranquil sea at sunset, casting a spell of relaxation upon guests from the moment they step inside.

Share
Every corner of SET is a testament to superyachts' meticulous craftsmanship and design artistry. Upholstered in rich navy tones and tan fabrics, the plush seating offers a sense of intimacy and comfort reminiscent of a private yacht's cabin. Oversized windows allow natural light to pour in, creating a warm, inviting ambience during the day, while dimly lit chandeliers and sconces mimic the luminance of stars on a clear night.

The juxtaposition of dark and light is a recurring theme at SET. Oak wood accents adorn walls, columns, shutters and ceiling trims, providing a soft backdrop for deep, glossy navy-blue lacquers illuminating the furniture. This contrast is further decorated in the moody private dining room, mirrors the interplay of light and shadow upon the open sea while echoing a timeless traditional stripe pattern.

Thoughtfully designed by Studio Munge to beguile senses, SET Steak and Sushi Restaurant at Pendry Newport Beach is a sensory journey through the world of nautical elegance - a place where guests can savour not only exquisite cuisine but also the artistry behind superyacht design, making every visit a memorable voyage into nautical splendour.